---
Science and Technology Taster Day 2011
Story supplied by LU Press Office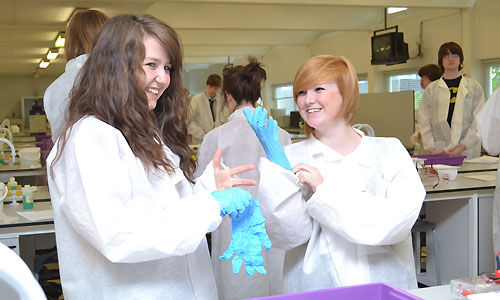 More than 250 pupils from across Lancashire and Cumbria came to Lancaster University on July 1 to find out more about studying Science and Technology subjects at a top ten UK university.
The pupils from schools and colleges across the region were given taster sessions in Lancaster University's highly-rated faculty of Science and Technology where they met researchers and teaching staff working in fields from mobile phone development to particle physics.
They also met current Lancaster students and found out about the day-to-day reality of student life covering everything from student finance to where to do your washing.
Highlights included:
A modern day 'who done it' in Biological Sciences introduced pupils to the basics of DNA analysis taken from a crime scene.
An insight into the future of mobile phone applications in the School of Computing and Communications.
A hands-on exploration of volcanic rock in Environmental Science.
Lectures looking at the Maths behind Computer games and the statistical probability of getting rich quick.
An introduction to the real-world applications of the science of Psychology. Students played the role of psychologist in a criminal case, experienced how the mind is tricked by illusions of vision, audition, and attention, and learned about social behaviour.
An interactive Engineering session looking at how much energy you use from getting up in the morning, and drying your hair through to relaxing and watching TV.
Lectures and demonstrations in Lancaster's Physics department - rated number one for research in the UK.
This was the seventh Science and Technology taster day at Lancaster, which are intended to encourage pupils to consider studying STEM and related subjects.
Associate Dean for Undergraduate Studies Dr Jane Taylor said: "Our annual taster day aims to give year-twelve students a real feel of what it's like to study science and technology subjects at university. As well as the departmental workshops, there's the opportunity to talk to our lecturers first-hand and to talk to students about university life.
"Our departments have done really well in the recently published Times and Guardian 2012 league tables with many listed as being in the top 10 in the country for student experience.
"We hope this event will support and inform the important decisions these students will be making about going to university in 2012."
Schools taking part were: Oldham Sixth Form; Tarporley High School; Appleby Grammar; Holy Cross College; Blackpool Sixth Form; Runshaw College; Parrswood College; Ripley St Thomas; King George V College; Lytham St Annes; Morecambe High School; Cardinal Newman College.
Mon 27 June 2011
---