---
Windows Phone Camp comes to Lancaster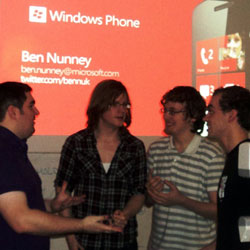 42 Lancaster students attended the first Windows Phone Camp to be held at Lancaster University on Friday 9 December.
The event was run by Microsoft in collaboration with Lancaster University Science and Technology Association (LUSTA). Staff from Microsoft provided guidance and resources to Science and Technology students to help them build mobile apps on the Windows Phone 7 platform. The event featured presentations on Windows Phone 7, Visual studio, App templates and the Windows Phone Marketplace.
Microsoft also gave away 10 Samsung Focus Flash smartphones to students who agreed to build Windows Phone 7 apps before 25th December.
LUSTA and Microsoft are now in the process of forging a new partnership to organize more technical and career events in 2012.
Fri 09 December 2011
Associated Links
LUSTA - Lancaster University Science and Technology Association (LUSTA) brings together eight academic societies, the Faculty of Science and Technology (FST) and the Centre of Enterprise, Employability and Career (CEEC) to promote and inspire opportunities in the world of science and technology
---