---
LEC in China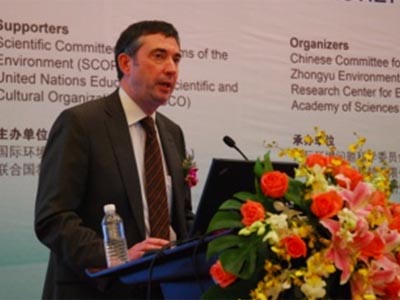 Lancaster Environment Centre contributed to a high profile International Environmental Forum and co-organised the First International Workshop on Environment and Health in China with the Chinese Academy of Sciences.
An International Forum on Environmental Science and Sustainable Development organised by the Scientific Committee on Problems of the Environment (SCOPE) and United Nations Educational, Scientific, and Cultural Organization (UNESCO) was held in Yinxing, China in late November 2011. This forum gathered 200 scientists from around the world to discuss one of the most important topics of our planet: the environmental science and sustainability. LEC scientists presented work the forum. LEC director, Professor Kevin Jones, gave a keynote speech at the forum on LEC's work on the global cycling and transport of persistent organic pollutants. China's national China Daily newspaper subsequently ran an article on the topic.
LEC and the Institute of Urban Environment, Chinese Academy of Sciences then jointly organised the Chinese 1st Workshop on Environment and Health in Xiamen, China in December. About 70 scientists from China, Europe and the United States attended this workshop. Keynote addresses from LEC Scientists Professors Kevin Jones and Frank Martin were presented at the workshop. LEC will continue working with CAS to organise international workshops and summer schools, as part of a broad collaborative agreement addressing 'Environment' with Chinese scientists.
Mon 23 January 2012
---