---
Lancaster University signs research agreement with Myerscough College
Story supplied by LU Press Office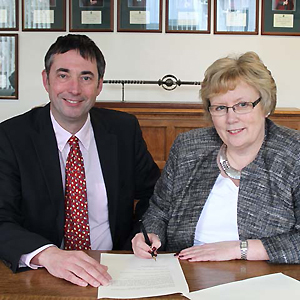 Lancaster University and Myerscough College have signed a formal agreement to develop research on environmental and agricultural issues.
The Lancaster Environment Centre at Lancaster University has a valuable long-standing research link with Myerscough College with current joint research projects funded by the Horticultural Development Company, DEFRA, the EU and local companies.
Distinguished Professor Bill Davies of the Lancaster Environment Centre said: "Our immediate plan is to extend our collaborations through the development of some specialist field-based research facilities. These and other planned developments ensure that our research links effectively to UK and international farming practices and communities."
The Sustainable Intensification research project will be based at Myerscough College's Preston Centre, in Bilsborrow, and will initially look at ways to maintain and increase food production levels whilst reducing the input of increasingly scarce resources such as energy, water and land - an increasingly important issue in agriculture and crop production.
The first major new facility to be established on the site will include devices for collecting water from the pore spaces of soils and for determining the soluble constituents removed in the drainage.
Initial experiments will look at wheat with different root architecture with the aim of trying to establish which make the most efficient use of water and nutrients in the field situation. Once this experiment is completed, the facility will then be available for other investigations with other food crops, fodder crops or plants.
David Elphinstone, Head of Research at Myerscough College, said: "This is a fantastic new research partnership giving our College the chance to work alongside a huge educational institution in Lancaster University. 'Sustainable Intensification' is something that is important to everyone and, as a land based College with a huge interest in sustainability, Myerscough is happy to be at the forefront of the research. "
Fri 03 February 2012
---