---
Postgraduate Certificate in Energy from Waste continues to Power Ahead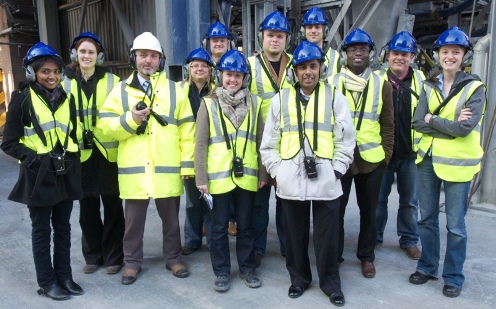 A second cohort of students has recently completed LEC's Postgraduate Certificate in Energy & Fuels from Waste (EFFW). LEC launched its new professional training course in the spring of 2011, aiming to deliver a broad, interdisciplinary curriculum to new entrants to the sector and experienced practitioners alike.
The course, which is accredited by the CIWM, leads to the award of a 60-credit Post Graduate Certificate (PG-Cert) for those students who choose to enrol for all three of the available modules. It was developed by resident LEC companies Stopford Energy & Environment Ltd and Peak Associates Ltd, using funding provided by the NWDA which was channelled through the North West Universities Association (NWUA). Stopford and Peak subsequently enlisted the support of more than twenty partner organisations to assist in the development and delivery of lectures, course materials and site visits, ensuring an up-to-date and stimulating syllabus.
Stopford's Dr Sean Hayward, who has led the development and delivery of the course, believes it has a bright future. "The course has a broad curriculum which covers the financial, technical, operational and regulatory aspects of the industry. It is delivered intensively across three modules which can be summarised as Feedstocks & Technologies, Project Management and Environmental Management. Each module is delivered in just three days, giving students the opportunity to learn from some of the UK's leading lights in the EFFW sector. With representation from experts in industry, statutory authorities, regulation and consultancy, as well as from academia, all bases are covered!"
As part of the course students visit several operational facilities in the Northwest, gaining first-hand experience of what happens at a municipal-waste incinerator, an animal-waste processing plant and a large, municipal waste processing facility to name just three.
Mark Dawber, a Landfill Gas Engineer for Viridor, was part of the 2012 cohort. "As a relatively new employee in the waste industry, I was looking for a course which would develop my understanding of the EfW sector and the EFFW course at Lancaster did not disappoint. As well as providing a detailed assessment of the key technologies and feedstocks, the course developed a practical understanding of the legal and environmental obligations and challenges which face the EfW sector. The course was effectively delivered by a range of industry experts, which was complemented by relevant and interesting site visits."
Mathew Kay, who was a member of the 2011 cohort commented- "I work as Maintenance Manager for Sita UK at one of their mass-burn EfW facilities. Our aim is to meet wider company objectives by optimising the performance of the facility and by formulating operational plans. Occasionally, this means that the broader strategic drivers behind company and sectoral direction are overlooked. The postgraduate certificate fills in the blanks by examining the legislative and commercial drivers which impact on waste strategies of local authorities and waste management companies. New and emerging technologies are studied in conjunction with existing proven methods for treating waste. The classroom sessions are backed up with field visits to operational facilities, which enables real life scenarios to be studied and operators to be quizzed. This mixture of theoretical and practical teaching provides an excellent insight into the rapidly developing sector of energy from waste."
Further information about the course's next delivery, which is scheduled for early 2013, can be found on the course website, please contact Dr Sean Hayward for further enquiries.
Tue 26 June 2012
---