---
LEC Prize Winners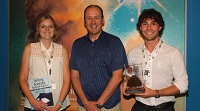 Last week 2 of LEC's undergrads Kirsty Ross and Michael Knott received prizes for excellence in Soil Science awarded by the British Society of Soil Science at their Annual Meeting in Nottingham.
Michael was top and Kirsty runner up soil scientist on the ENV 221 Soil Science 2 year Course that John Quinton and Phil Haygarth teach.
They are pictured here with Phil Haygarth receiving the prize at the National Space Centre near Nottingham.
Photograph by Karl Ritz
Tue 11 September 2012
---