---
Royal Society Research Fellowship for LEC Professor
Story supplied by LU Press Office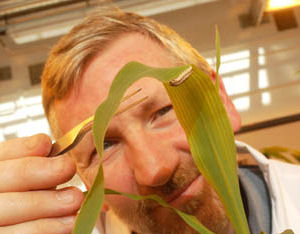 The Royal Society has appointed Kenneth Wilson, Professor of Evolutionary Ecology at the Lancaster Environment Centre, as one of only seven new Senior Research Fellowship holders.
Funded by the Leverhulme Trust, the scheme is designed for scientists who would benefit from a period of full-time research without teaching and administrative duties. Fellowships cover all areas of the life and physical sciences, including engineering, but excluding clinical medicine.
During the Fellowship, Professor Wilson will focus on developing strategies for the biological control of two important crop pests - the African Armyworm, a devastating caterpillar pest of cereal crops such as maize, wheat and rice in sub-Saharan Africa, and the Australian Plague Locust, the most important grasshopper pests of food crops in Australia.
Professor Wilson said, "This Fellowship is a great honour and will enable me to develop these two projects in new and exciting ways. In particular, it will allow me the quality time needed to develop a long-term strategy for biological control of armyworms throughout Africa, building on research we have conducted over the last 10 years."
As well as extensive visits to Africa, the Fellowship will also enable Professor Wilson to develop a new project in Australia.
"Our work in Africa has become a bit of a role model for the development of an environmentally-friendly control technology for crop pests that using the insect's natural diseases against them. During my visit to Australia, we will use our previous research as a template for exploring the potential for a new biopesticide to be developed against the resident locust population."
Thu 06 September 2012
---