---
Advances in energy and fuels from waste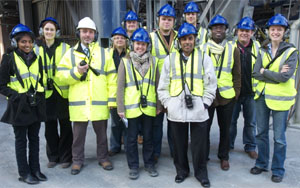 Wednesday October 24th, 12:30 to 16:00, Lancaster Environment Centre Training Rooms
Building on the success of the Postgraduate Certificate in Energy and Fuels from Waste launched last year, Energy Lancaster is offering a free afternoon Energy and Fuels from Waste event on Wednesday October 24th, 12:30 to 16:00 at Lancaster University's Lancaster Environment Centre.
The event is aimed at businesses of all sizes who would like to know more about the advances in energy and fuels from waste sector and the activities being conducted at Lancaster University in training and research.
The event has been designed for businesses involved in waste management, renewable energy, technology permitting/development, energy consulting, environmental management, fuel supply logistics and utility provision.
Energy Lancaster brings together Lancaster University's world leading expertise in a wide range of energy related areas covering the demand and supply of energy, including carbon management, clean coal, energy and behavioural change, energy demand management and modelling, energy policy and economics, fuel cells, nuclear energy, photovoltaics and photocatalysis, transport and transport usage, wet renewables and wind energy.
Attendees will hear about the current advances in the energy and fuels from waste sector, the policies that currently affect the sector and the range of diverse research and training that occurs at Lancaster University's Energy Lancaster. Attendees will also be able to quiz an expert on their area of interest during a Q&A session and networking at the end of the event. Lunch is provided.
"Energy Lancaster gathers together the multidisciplinary energy related research activities from across the Faculty of Science and Technology and we are pleased to be working alongside Stopford Energy and Environment Ltd to raise awareness about the issues affecting the energy from waste sector."
Dr Ian Nickson, Business Partnerships Manager
The event is run in partnership with Stopford Energy and Environment, a division of Stopford Projects Ltd; a Lancaster Environment Centre based multidisciplinary engineering, energy and environment consultancy with a wealth of renewable energy project management expertise.
"Stopford believe the partnership with Energy Lancaster and the university delivers a long overdue training requirement to the energy from waste sector. The event will provide an excellent insight into the training provision available."
Dr Ben Herbert, Stopford Energy and Environment Ltd
If you want to gain insight into emerging trends in energy from waste and policies that affect the sector, how to utilise academic expertise from Energy Lancaster to develop your business and network with like-minded businesses in the energy from waste sector:
Contact Dr Ian Nickson, i.nickson@lancaster.ac.uk (01524 594259) for more information.
Thu 20 September 2012
---