---
Global Food Security Meeting at Lancaster
Story supplied by LU Press Office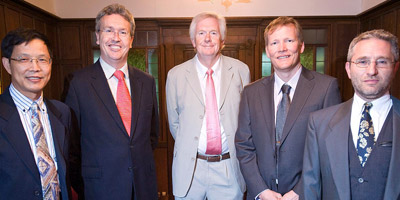 Lancaster University hosted The International Food Security and Safety Meeting from September 13-15, where experts gathered to address the problems of global food production at a time of population growth and climate change.
The themes of the meeting included Food Security in China and Africa, Sustainable Intensification and Europe's Response to the Food Security Challenge. The plenary speaker was Dr Gebisa Ejeta from Purdue University, Winner of the 2009 World Food Prize, while other contributors included Lancaster alumnus Professor Jianhua Zhang from the Hong Kong Baptist University, who was featured as one of five crop researchers who could change the world in "Nature".
Speakers from Lancaster University included Dr Saskia Vermeylen (LEC), Professor Felix Wackers (LEC) , Dr David Tyfield (Sociology), Professor Brian Wynne (Sociology), Dr Ken Wilson (LEC) and Professor Larry Busch (Michigan State University/ Lancaster University).
The meeting was organised by Distinguished Professor Bill Davies (LEC) together with the Society for Experimental Biology, with support from the Royal Society, Research Councils UK, Waitrose, the Journal of Experimental Botany, The Horticultural Development Company and the British Council.
Fri 17 September 2010
---