---
Second CCN Conference at Arup receives great feedback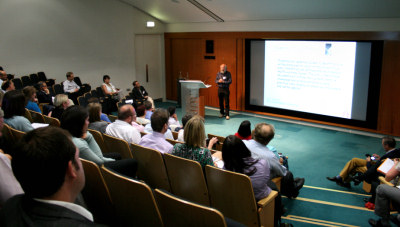 Our second Catchment Change Network (CCN) Annual Conference held at the Arup Campus, Solihull has received some great feedback from delegates. Over 50 delegates attended the event supported by CIWEM (North West) on Tuesday July 5th.
The programme was designed to explore how Guidelines could represent a useful tool to encourage stakeholder participation across catchment management.
Invited presentations provided a unique opportunity to learn how a range of organisations and initiatives are optimising success. A series of interesting case studies highlighted the challenges, opportunities and lessons learned. All the conference outputs, including individual slide presentations and video recordings have been posted on our CCN Conference page.
Discussion sessions gave delegates the opportunity to reflect on designing participatory processes, the challenges this creates and solutions that allow progress. The event has raised the possibility of developing some general Guidelines for Stakeholder Interaction involving risk and uncertainty.
Keith Beven has provided a personal reflection via our CCN 'Catchment Conversations' Blog 'Where are the Guidelines for the participatory process?'.
Tue 19 July 2011
---