---
New iPhone App By InfoLab21 Based Company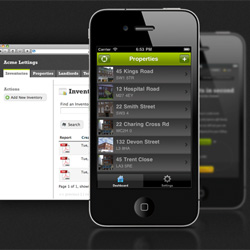 A new iPhone app to take the leg work out of property inventories.
Startup company Invento Software have this month launched their flagship product, LettingCheck.
The Infolab21 based firm have worked closely with some of the country's top letting agents to produce a free iPhone app to make the process of compiling property inventories quick and easy.
LettingCheck is available on the App Store as a free download, and has a comprehensive database of common fixtures and fittings, rooms, furniture and manufacturers to make light work of creating both an agent and tenant copy of an inventory.
In trials with a branch of Northwoods, the app was up to 60% quicker than traditional methods, as there is no need to type up and format the inventory afterwards. Instead, LettingCheck instantly puts all the information you have entered during the check, including photos, into a professional, white label report.
Technical Director, Rob McVey, has told us "Traditionally taking an inventory was a bit archaic - you'd have to go round with a camera, Dictaphone and of course good old fashioned pen and paper. And once you were done you'd have to go back to the office to type the whole thing up. It's time consuming and quite frankly a bit of a faff"
McVey adds "If you can use an iPhone you can use the LettingCheck app - and what's more it is free for agents requiring only a small number of inventories per year".
To view a sample report, or to try out the free iPhone app visit www.lettingcheck.com
Wed 31 August 2011
---