---
Join the KARIM network to access R&D capabilities from across Europe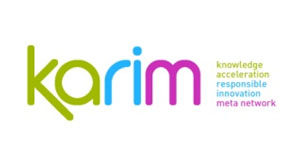 KARIM is an international network of businesses and universities. By joining the network, SMEs can tap into high value transnational technology and innovation support and develop new environmental or socially beneficial products, processes and services.
"A key thing for SMEs is their competitive edge. For Europe to be successful we need to invest in R&D capability for our SME community. That's what the KARIM project is about. It provide SMEs with access to R&D capabilities that sit right across Europe." Dr Mark Bacon
KARIM can help your business at every stage of innovation, from training on innovation, commercial appraisal of new ideas, guidance on how businesses typically access market research information financial strategy, added value analysis, sustainability analysis, economic & technical feasibility or IP analysis and project planning, R&D from consultancy projects delivered by graduates from a broad range of environmental or engineering disciplines, to networking events to find you research, development and innovation partners in Europe, assistance with grant applications or further business coaching and opportunities to make transnational funding pitches via the Heidelberg Innovation Forum and Innoventure Europe.
Members of the KARIM network explain why SMEs should join in this video taken at the last KARIM event in which showcased Smart Technology:
If you have an idea for an R&D project or want to find out more about KARIM, contact the Lancaster representative, Dr Chris Holroyd, Business Partnerships Manager, LEC tel: 01524 510228, email: c.p.holroyd@lancaster.ac.uk or register directly at www.karimnetwork.eu
Fri 20 April 2012
---