---
Catchment Change Network Workshops share lessons learnt from 3 years of collaborative research with businesses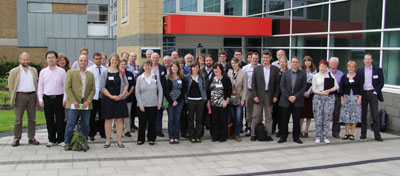 The Catchment Change Network (CCN), led by LEC, is a NERC-funded knowledge exchange network that brings university scientists, with a broad interest in catchment management, together with a wide range of practitioners to consider future change in catchment systems.
Over the last three years the Catchment Change Network (CCN) has organised a programme of workshops and meetings to discuss and develop guidelines for incorporating risk and uncertainty into the management of catchment change in the areas of flood risk, water scarcity and diffuse pollution.
This final international conference, "Stakeholders, next generation models, and risk in managing catchment change" was held at Lancaster University from 25th June - 27th June 2012 and presented the progress made in CCN and other projects during this time.
The conference brought together over 70 delegates from academic, commercial, regulatory and NGO sectors for three days of inspirational presentations and lively discussions. Delegates came from USA, Canada, Sweden, France, Germany, the Netherlands, Italy, Czech Republic, Northern Ireland, Republic of Ireland, Scotland and England to hear a wide range of discussions over the 3 day conference.
Leader of the CCN Prof. Keith Beven, Lancaster University gave the introduction and welcome and a presentation on "Grand challenges in hydrology and hyper-resolved ignorance." Prof. Eric F. Wood, Princeton University, USA delivered a talk entitled "Hyper-Resolution, global land surface modelling: are there pathways for addressing this need and will such models improve predictive capabilities?". The fourth session focused on lessons learnt for business which included a talk from Martin Furness, Ofwat, UK on "Managing risk and uncertainty within the water industry - an economic regulator's view."
The event was well received by delegates - Georges Marie Saulnier, Université de Savoie, commented "it was really a pleasure to come to Lancaster... again thanks a lot for all that you did for us all." Prof. Ad De Roo, Project Leader of Water Quantity Management and Professor of Natural Hazards and European Commission Joint Research Centre, Italy and Utrecht University, commented "thank you for a fruitful conference."
Other CCN workshops this quarter included "GLUE: 20 years on", a workshop which reviewed the way in which the Generalised Likelihood Uncertainty Estimation (GLUE) methodology has illuminated the debate about how to assess uncertainty in environmental models, the philosophy that underlies the GLUE methodology and examples of using GLUE in practice. 2012 marks the 20th anniversary of the first GLUE paper by Beven and Binley in 1992 which has just passed 1000 citations on the Web of Science.
The next CCN workshop will be in partnership with the Institute of Environmental Management and Assessment (IEMA), building on the relationship with representatives after having attended the June conference.
For more details and to get involved contact the CCN Facilitator: Marion Walker marion.walker@lancaster.ac.uk Tel: +44 (0)1524 510290
Mon 13 August 2012
---