---
Cyber Security Conference CSC2012 reveals cybercrime challenges facing businesses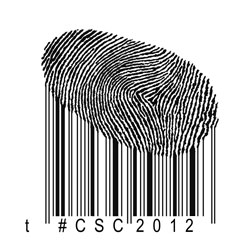 According to BBC report, UK businesses lose around £21bn a year to cybercrime and cyber-attacks are becoming increasingly more sophisticated. Security Lancaster fully recognises the need to create a more security- conscious culture.
Dr Daniel Prince, Associate Director of Security Lancaster and Partnerships Manager, stressed this to delegates at this year's Cyber Security Conference, (CSC2012) Protecting Your Business in an Insecure World, "Cyber security is not a bolt on to businesses but an important part of it that should be embedded into your business model and business processes - it's not about stopping you from doing things, but about looking at what do you want to do and what you need to do that and protect your assets- putting them first- balancing risks against benefits."
Over 85 delegates from a range of industries from across the UK attended CSC2012 this month to find out from experts from academia and industry about cyber threats and how to protect their business. The event revealed:
Cybercrime is evolving
Tony Dyhouse, Cyber Security Director at the Information and Communication Technologies Knowledge Transfer Network (ICT KTN) explained how cybercrime had evolved from the first virus in 1981 Elk Cloner on Apple II Floppy disks by Richard Skrenta to becoming a global phenomenon. Read more in Tony's blog.
Cybercrime is common
David Cook, (Solicitor Advocate, Pannone LLP) who prosecutes and defends cyber criminals stressed that data loss happens all the time and laws are becoming tighter with new EU laws expected in 2014.
Cybercrime is inevitable?
Dr Mark Lacy from the Security Lancaster team, gave some stark reminders of the dual-use dilemma- i.e. that people also take new technology and explore how they could use it for negatives purposes. For example, people using Blackberries to coordinate the London riots and the potential damage caused by being hacking into pacemakers.
Cybercrime is not just an "outside threat"
David Guest Salford Software Ltd, smashed the misconception that security threats to businesses are usually from outside the organisation; in fact 65% security breaches are internal. He stressed the importance of having detailed policies. Simon Smith, IBM Security Systems echoed this "the misconception is that the bad guys are on the outside- your users browsing are a threat" stressing the need to educate users.
Opportunities for cybercrime are increasing
Simon Smith discussed the cyber security threat landscape citing the X Force IT Trend and Security Risk Report, pointing out that "the difference in the last year, is that companies we had heard about that were hacked... were the ones with IT departments... stressing that even those with budget can be attacked." He also highlighted that due to changes in flexible working practices "the perimeter of the traditional business is changing.. the perimeter is my living room." Steve Carr (Dell SonicWALL) discussed "Securing Ever-Expanding Enterprise Networks" as staff and customers access company data in an increasing number of ways, stressing the need to monitor access points given.
The scale of cybercrimes can be huge
Professor Awais Rashid (Security Lancaster) discussed Cyber Security Challenges in a Digitally Connected World, giving contrasting examples of cybercrime-an insider threat from a staff member who accumulated millions of loyalty points and 400000 bank details stolen by a group of 11 hackers.
Attitudes need to change
Simon Smith commented "Make your users savvy because it's important for your business," and as Tony Wilson, an independent information security advisor from Indelible Data, warned "Comply or Die!" who underlined the security expectations of the Payment Card Industry, the Information Commissioner and corporate clients.
Cyber security can be used to differentiate your business
Dr Daniel Prince highlighted how security technology can be used as a positive force to win new businesses. For example, adding QR codes on additive bottles so consumers can access health information, using security data mining approaches to identify key customers and using security certification as a selling point to gain work with larger companies by demonstrating compliance.
Feedback from the event was very positive, 67% surveyed said the event was above or well above expectations, with 74% stating they would follow up by looking into collaboration with the university or look into university research.
"Every organisation should have the information this event delivers." "Excellent, yet again a really useful event for SME," "Users are the backbone of every organisation but they can also be the biggest source of security problems. Make them aware of the threats out there."
All presentations are available to watch online, along with the top 15 tips from delegates and their security concerns.
The event was hosted by Security Lancaster and InfoLab21 Lancaster University's Information Communications Technologies Centre of Excellence in partnership with the ICT Knowledge Transfer Network (ICT TKN).
Tony Dyhouse from the ICT KTN concluded "Following the success of Lancaster's CSC2011 the ICT KTN was pleased to be able to again partner with Lancaster University to deliver CSC2012. It is a very difficult financial climate for SMEs in the UK, and they need to counter cyber threat to ensure they operate at maximum effectiveness and retain valuable intellectual property and assets. At the same time, their need to focus on core business limits the resource they have to gain an understanding of the threat and how to protect themselves. CSC2012 imparts such information with maximum effectiveness in the minimum time, providing recommendations from cyber experts on hand. ICT KTN very much looks forward to partnering with Lancaster University next year to deliver CSC2013." Read more in Tony's blog.
The event was supported by InfoLab21's as one of a series of Northwest technology events as part of the InfoLab21 Strategic Technology Exploitation Programme (ISTEP), a Solutions for Business product which provides a range knowledge exchange activities to identify and support collaboration between Northwest Digital & Creative companies and the 270+ strong research community at InfoLab21.
Fri 14 September 2012
---