---
Students' Prototype Tidal Turbine Launched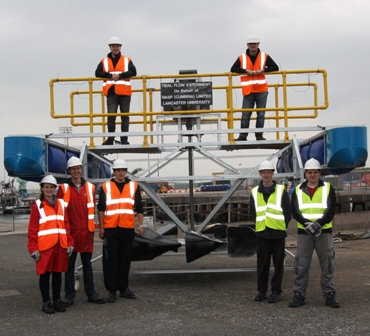 A group of eight MEng students from Lancaster University Engineering Department have been working with local company WASP (Cumbria) Ltd on the development and testing of a prototype tidal turbine.
Working under the supervision of Dr Stephen Quayle of Lancaster University Renewable Energy Group (LUREG), the team have completed design and manufacture of the flotation platform, power-take off system and the associated control and instrumentation. Small-scale model testing was also completed in the Engineering Department water flume.
Alan Newton of WASP (Cumbria) Ltd said "The assistance of the students has enabled the development of a larger scale prototype to move forward far quicker than WASP could have achieved without the assistance. In addition areas that would have proved extremely difficult for WASP to resolve have been completed by the team with specifications, design and detail drawings enabling the order of components necessary for the trials."
The turbine was launched in Walney Channel earlier this week.
The team undertook this work as part of their fourth year group project. All MEng students at Lancaster University Engineering Department complete an extended group project in collaboration with industry, which allows them to apply their skills and create solutions to real-life business problems. For more information on courses at Lancaster University please see our undergraduate pages.
Thu 13 June 2013
---