---
Prof Jim Wild at TEDx LancasterU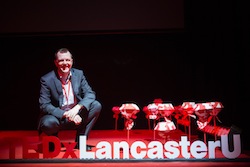 Watch Prof Jim Wild's talk "Our place in the Sun" from the TEDx LancasterU event that took place on campus on 18 June 2013.
Jim Wild is a scientist studying the space environment and links between the Sun and planets. His talk explores the physics behind the northern lights, the impact of space weather on human technology and the exploration of the solar system. As Professor of Space Physics at Lancaster University's Physics Department and a Fellow of the Royal Astronomical Society, Jim is also interested in exploring the links between science and society.
In the spirit of ideas worth spreading, TEDx is a program of local, self-organized events that bring people together to share a TED-like experience. At a TEDx event, TEDTalks video and live speakers combine to spark deep discussion and connection in a small group. These local, self-organized events are branded TEDx, where x = independently organized TED event. The TED Conference provides general guidance for the TEDx program, but individual TEDx events are self-organized.
Thu 25 July 2013
---