---
Physics graduate sets course for space agency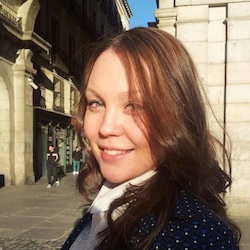 A Lancaster University physics graduate has been selected for the European Space Agency's Young Graduate Trainee Programme.
Hannah Laurens, who graduated from Lancaster with a Masters (MPhys) degree in Physics, Astrophysics and Space Science earlier this summer, will take part in the one-year programme and gain experience in the development and operation of space missions.
The programme is highly competitive, with students from across Europe competing for a handful of places. ESA's Graduate Trainees take on a responsible role in supporting a project, and benefit from the expertise of a space agency mentor.
"Space research is something I feel really passionate about and the chance to broaden my knowledge of the subject and gain real world experience at one of the world's biggest space-related organisations is an amazing opportunity," said Hannah, who will be working at both the European Space Astronomy Centre in Spain and the European Space Operations Centre in Germany.
"It's a great opportunity for me to work in two different countries gaining research experience working within the agency, but also in experiencing other cultures and learning what it's like to live and work outside the UK."
ESA aims to promote cooperation among European States in space research and technology and their space applications, with a view to their being used for scientific purposes and for operational space applications systems.
Mon 12 August 2013
---