---
Over Three-quarters of a Million for Marine Energy Research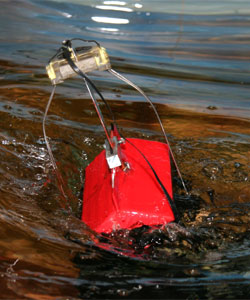 The Lancaster University Renewable Energy Group (LUREG), part of the Department of Engineering, has been awarded over three-quarters of a million pounds to help develop the next generation of wave-power generators.
The funding comes in two separate grants awarded to George Aggidis, Director of LUREG, from ESPRC and The Joule Centre.
The Joule Centre - a partnership of North West Universities and key players in the energy industry - has allocated a quarter of a million pounds for research led by George Aggidis and his partners at the Manchester Metropolitan University (MMU) on a new wave energy converter called WRASPA.
The WRASPA concept (Wave-driven, Resonant, Arcuate-action, Surging Power-Absorber) is to be evaluated and developed by means of computational and experimental modelling in a joint collaborative programme in the North West of England between Lancaster and MMU.
Surging converters are designed to generate energy from the movement of waves parallel to the surface of the sea. This project aims to develop a thorough understanding of surging converters, looking at different control systems and designs in mixed sea-states.
George Aggidis said: "This research continues LUREG's longstanding work on wave energy converters. Our long-term objective is to develop expertise in the overall design and development of wave energy conversion devices that can generate large amounts of electricity economically.
"Should the WRASPA concept prove viable, it will lead to production of clean renewable energy. Ultimately export of the technology will not only bring economic benefits to the Northwest of England but will benefit the wider world".
A second award of £600,000 from EPSRC to George Aggidis forms part of £5.5 million in funding for Lancaster University and partners at the Universities of Edinburgh, Heriot-Watt, Strathclyde and Queen's Belfast, as part of The EPSRC SuperGen Marine 2 research programme.
Together, these six UK universities form The Marine Energy Consortium, which focuses on the potential for future exploitation of marine energy resources.
The newly-funded programme of research hopes to increase understanding of the way energy converters interact with their environment, working with scale-models in the laboratory and full size devices in the open sea.
Work undertaken will be wide-ranging, from testing radical new design approaches to refining ways to control systems operating in complex environments. Researchers hope to address the challenges posed by designing devices for mixed tidal and wave environments, as well as the problem of fixing, mooring and recovery of marine systems.
The project also hopes to assess the environmental impact of large arrays of wave energy converters, and the economic challenges posed by the variable and intermittent nature of wave power.
Lancaster will lead research work on the optimisation of collector form and response and will be involved with the work on numerical and physical convergence, tidal energy, Power take-off, advanced control of devices and network integration, and economic analysis of variability and penetration.
Fri 24 October 2008
---