---
KBC's Steve Riches On Knowledge Transfer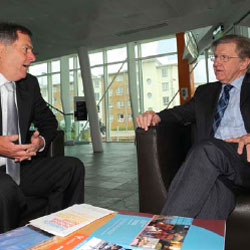 An Interview with Steve Riches, Director of InfoLab21's Knowledge Business Centre, is featured in the Autumn issue of "Bottom Line."
"Bottom Line" is Chartered Accountants & Business Advisors Moore and Smalley's magazine for Lancashire and Cumbria's larger businesses.
The interview focussed on the role of the KBC transferring information between academic and industry and can be viewed on page 13. A download of the magazine is available from the link below.
Thu 14 August 2008
---