---
Stopford and LEC in Double Swoop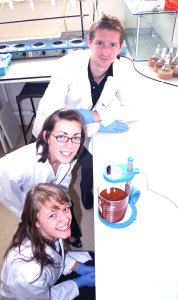 Stopford Projects Ltd, a multi-disciplinary engineering, environmental and project management consultancy and resident company in LEC, have successfully been awarded a NWDA grant for R&D to fund a research project to develop a novel controlled release system for the delivery of agrochemicals into horticultural and a prestigious Environmental-KTN funded CASE PhD studentship to investigate opportunities for the development of novel waste to energy technologies in the UK.
The research for the NWDA and Stopford funded grant, totalling £205k, will be conducted by a team co-ordinated by Prof Kevin Jones and Prof Felix Wackers from LEC and Dr Ben Herbert from Stopford Projects. The research will focus on the uptake and release mechanisms of active ingredients to and from the delivery system with a view to validating the technology for a suite of agrochemicals for use in horticulture. As well as supporting the research project, LEC also provided key support in writing the bid. Dr Ben Herbert of Stopford explained that "The expert guidance from our colleagues in the Centre for Chemicals Management and the Centre for Sustainable Agriculture proved invaluable throughout the development of the bid." The outcome of this research will allow Stopford to validate their novel technology, with a view to conducting commercial scale field trials to enable regulatory approval for their product.
The Environmental-KTN PhD studentship part funded by EPSRC has been designed by Stopford and will be conducted under the joint supervision of Prof Kevin Jones and Dr Ben Herbert. The PhD will examine the opportunities for the development of plasma gasification waste to energy plants in the UK and explore the possibilities of producing second generation biofuels from the subsequent synthesis gas. The project will comprise a mixture of desk and lab based research and will use some of LEC's state of the art equipment to examine the characteristics of UK waste streams to assess its suitability for plasma gasification.
Stopford Projects Ltd have had their research arm located in LEC for 4 months and have already expanded and taken up residency in a larger office now employing 4 new staff based at Lancaster. Dr Ben Herbert commented "Energy and food security are two of the major challenges facing society worldwide and LEC has been pivotal in assisting us in securing two grants enabling us to conduct cutting edge research into the development of new technologies in these key areas".
Thu 21 August 2008
---