---
A new dawn for sustainable agrochemicals?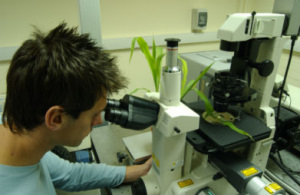 Plant Impact plc, the first LEC based company to float on an open stock market, is engaged in three projects with LEC aiming to determine the mechanisms by which specific chemicals regulate crop development.
The AIM (Alternative Investment Market) listed agrichemicals business, specialises in environmentally safe agrochemicals for improving crop health, yield and quality. LEC's internationally recognised plant scientists are using the centre's prestigious laboratories and plant growth facilities to test how the chemicals interact with the plant physiology.
The projects have involved an investigation of the physiology and molecular biology of crops grown under stress. The project has provided a detailed understanding of how the products work and has been used to support patent applications and marketing literature.
Plant Impact's move to LEC has increased the volume of interactions with academic staff and tripled the volume of potential projects under consideration.
The outcomes of the research have been very interesting for Plant Impact. The results have not only shown how specific chemicals affect crop development but have also demonstrated interesting effects using combinations of chemicals. This knowledge will dramatically increase future crop yields and quality.
Fri 18 July 2008
---