---
£1550 Raised by Charity Event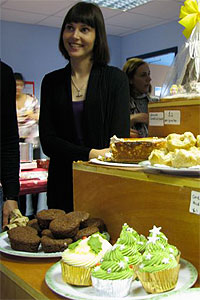 The staff from the Centre for Research in Human Development at Lancaster University held a Fundraising Day on Tuesday 1 December to raise money for two good causes, the Special Care Baby Unit at the Royal Lancaster Infirmary and Akany Avoko, a children's charity in Madagascar.
The Whewell Building was transformed from a dedicated research facility into a hub of all the usual Christmas fair activities, including craft and cake stalls, games, tombola and even "crack the safe", with prizes generously donated by The Lancaster House Hotel, Brewster's Cottam Fields, Kirkby Lonsdale Brewery, Elements Nightclub, Toast Nightclub, S'up, Campus Newsagent and various members of staff.
The atmosphere was greatly enhanced with live music throughout the day from Zazou Anglais (Mark Knowles and Richard Neil Harrison), Amanda Lucas with Ted Taylor on piano and Laurence Canti on bass, and the Johnston Brothers with special guest Dave Gaskell, on guitar.
The organisers would like to extend grateful thanks all the people who helped in any way, to all those who came along on the day and spent their money and to everyone who couldn't be there in person but still generously donated money and items to sell - a sum of £1550 was raised for the chosen charities.
There are strong links between organisations in Lancaster (for example the Millenium Choir) and Akany Avoko, a charity that works to provide education, shelter and food for destitute children in Madagascar. Irenee Rajaona-Horne is the Lancaster contact for this charity, and with the help of Maggie Bremner set up a number of tables selling craft work produced by the children living at Akany Avoko. Items included beautifully made bags, picture frames and toys and Maggie raised about £280 on the day. On the 11th December the Millenium Choir sang at the Chaplaincy Centre at the University and raised £91 while the craft stall sold about £85 worth of goods. The total amount of money raised for Akany Avoko was £750 all of which will be used to help the children directly.
The other recipient of the fundraising efforts is the Special Care Baby Unit at the Royal Lancaster Infirmary. A lot of the work conducted at the Centre for Research in Human Development involves babies, often as young as 4-months-old. Most of the babies who take part are recruited through the maternity unit at Lancaster Royal Infirmary. Because the success of our research programme depends on the cooperation of the hospital, and the willingness of local parents to take part, we wanted to support a local charity that was relevant to our work and the local community, and hence decided to donate to the Special Care Baby Unit. A total of £500 was presented to Judith Read from the Charity Office at RLI, with a further £300 kindly donated by Lakeland (Windermere).
Thu 07 January 2010
---