---
Science and Technology Taster Day 2012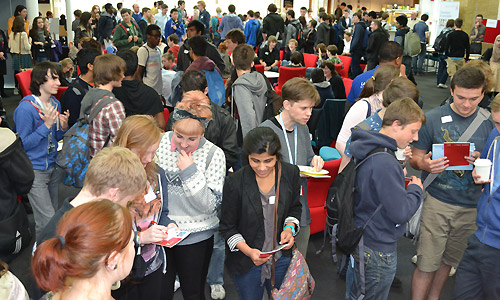 Our eighth Science and Technology Taster day was held on campus this week.
Over 220 students from 12 schools around the North West attended the event to get a taste of what it might be like to study Science and Technology at a top university.
Students started the day with a tour of campus and the chance to look at typical first year accommodation, before being welcomed by Professor Gordon Blower, Associate Dean for Undergraduate Teaching.
Students attended their choice of two sessions from a spread of Science and Technology subjects: Geography, Mathematics and Statistics, Environmental Science, Biology, Physics, Psychology, Computing and Communications, Chemistry and Engineering. There was also a session available on student life.
Activities ranged from lectures and small seminar groups through to practical sessions in labs showing the variety of teaching styles that students entering higher education could expect to encounter.
Feedback from teachers has been very positive. Tina Everton, from Tarporley High School and Sixth Form College, emailed to say:
"The students unanimously agreed that today's trip was very worthwhile and they all got something from it. I think it's an invaluable experience and I certainly enjoyed the sessions I attended.
"Lancaster is a very special university with a definite community feel, the students and staff were all very friendly and welcoming."
The Return of Chemistry
For the first time, students attending the Taster Day had the option of a chemistry session, trying their hand at an experiment to work out copper concentrations in a series of different samples.
Teaching staff from the schools attending the event welcomed the news that chemistry was making a comeback at Lancaster, and more than 70 students took part in the sessions.
Lancaster University's Dr Keith Davidson, current acting head of the Chemistry department, said: "Since we announced the fact we were reopening the department we have had very strong expressions of interest and support from schools."
Tue 03 July 2012
July 2014
May 2014
March 2014
August 2013
July 2013
May 2013
April 2013
March 2013
January 2013
September 2012
July 2012
March 2012
February 2012
December 2011
June 2011
March 2011
December 2010
November 2010
August 2010
July 2010
June 2010
March 2010
February 2010
October 2009
August 2009
May 2009
April 2009
March 2009
February 2009
July 2008
April 2008
March 2008
February 2008
December 2007
November 2007
October 2007
July 2007
June 2007
April 2007
November 2006
July 2006
May 2006
March 2006
February 2006
January 2006
---