---
Florence Nightingale Day successfully raises profile of women in mathematics and statistics
Story supplied by LU Press Office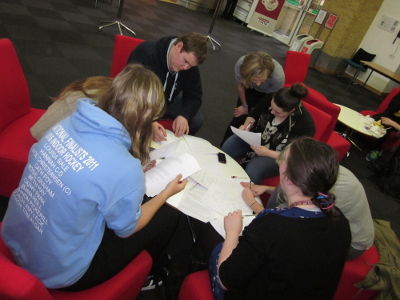 Pupils from years 11 to 13 from seven regional schools were represented at the recent event organised by the Department of Mathematics and Statistics. The day combined talks from prominent female mathematicians, hands-on activities, a quiz, group work, discussions and displays.
"Pupils and teachers enjoyed the maths," said Dr Nadia Mazza, one of the Day's organisers. "They learned with pleasure and curiosity, they engaged with the speakers and were keen to interact with them. New bonds were formed and all the speakers enjoyed it too. The day really fulfilled all the targets I had set."
Dr Mazza was delighted to receive very positive feedback from participants too.
"One teacher said the event was definitely the kind of event they like to take their students to and it has been very useful," added Dr Mazza. "She said that one of her students who attended the event was now planning to apply to study maths at University. Another liked the blend of mathematicians, people using mathematics and careers advice."
Keynote speaker Professor June Barrow-Green from the Open University said: "What came over very strongly was the wide range of things you can do with a mathematics degree or a sound knowledge of mathematics. So much of mathematics that form part of everyday life is hidden from view. Bringing it out into the open was immensely helpful."
Florence Nightingale, best remembered as a nurse in the Crimean War, had an immense love of mathematics and statistics. She was chosen as the icon for the University's continuing efforts to promote both subjects, particularly the participation of young women in those subjects.
It is hoped the event, funded by the Faculty of Science and Technology Outreach Grant, the London Mathematical Society and the Further Maths Support Programme, will become an annual event.
For more details and to view photographs from the day please see the Florence Nightingale Day pages on the department website.
Fri 10 May 2013
July 2014
May 2014
March 2014
August 2013
July 2013
May 2013
April 2013
March 2013
January 2013
September 2012
July 2012
March 2012
February 2012
December 2011
June 2011
March 2011
December 2010
November 2010
August 2010
July 2010
June 2010
March 2010
February 2010
October 2009
August 2009
May 2009
April 2009
March 2009
February 2009
July 2008
April 2008
March 2008
February 2008
December 2007
November 2007
October 2007
July 2007
June 2007
April 2007
November 2006
July 2006
May 2006
March 2006
February 2006
January 2006
---