---
Work Experience in Physics at Lancaster University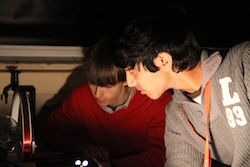 The Physics Department is offering a week of work experience to Y12 physics students who intend to take Physics at university.
Participating students will spend time in undergraduate laboratories designing experimental activities, exploring the research activities in different areas of physics and developing science communication skills.
Sessions - taking place from 21-25 July 2014 - will include aspects of the Department's research in the fields of particle physics, ultra low temperature physics, nanotechnology (including graphene), space science, biomedical physics and cosmology.
Participating students will work in small groups with a researcher. At the end of the week they will present a poster about their research work including the experimental, analytical, applications of the work.
Each of the five days will start at 10.00am and end at 4.00pm. Participating students are responsible for arranging their own travel to and from the Lancaster University campus and/or local accommodation if required. A bursary of £150 will be awarded to each participating student to help cover expenses.
Participants will increase their experimental, analytical and communication skills and gain a deeper understanding of physics concepts as well as the experience of working in a top university physics department.
How to apply
The programme will accommodate up to ten students. Interested students are required to complete the application form, which includes a parent/carer consent form and requires a 300-word personal statement describing why you should be selected.
This should be returned as an attachment to Professor Jim Wild by Friday 6 June.
Tue 20 May 2014
July 2014
May 2014
March 2014
August 2013
July 2013
May 2013
April 2013
March 2013
January 2013
September 2012
July 2012
March 2012
February 2012
December 2011
June 2011
March 2011
December 2010
November 2010
August 2010
July 2010
June 2010
March 2010
February 2010
October 2009
August 2009
May 2009
April 2009
March 2009
February 2009
July 2008
April 2008
March 2008
February 2008
December 2007
November 2007
October 2007
July 2007
June 2007
April 2007
November 2006
July 2006
May 2006
March 2006
February 2006
January 2006
---