---
Science and Technology Taster Day 2014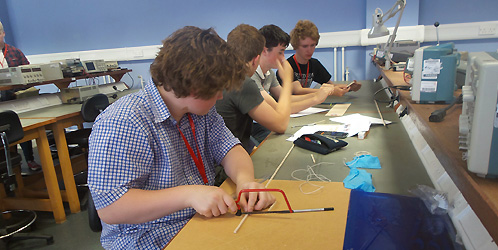 160 year-twelve students from nine Northwest schools have visited Lancaster University to take part in Science and Technology at Lancaster's annual Taster Day.
The event is designed to give students the chance to experience what it's like to study a science or technology degree at a top UK institution, through meeting current students and lecturers, taking part in a campus tour and having a go at a variety of various departmental subjects.
Professor Gordon Blower, Associate Dean for Undergraduate Teaching for Science and Technology, welcomed the students to Lancaster University, and detailed the different formats of sessions available, from lectures to practical sessions.
Sessions were available in all subjects across Science and Technology at Lancaster. This year there was a new session from Environmental Science, with students collecting tree leaves from around campus to and measure their magnetic properties and work out where particulate pollution is worst.
Others sessions included an interactive Psychology session, which explored Neuroscience, Developmental, Cognitive, and Social Psychology through hands-on activities and demonstrations designed to probe the inner workings of language, perception, reasoning, and action.
This was the tenth annual Science and Technology Taster Day. the event continues to be successful in encouraging year 12 students to study STEM related subjects.
Science tutor at Blackpool Sixth Form College, Jillian Seed, summed up the day: "A great day ? well organised, very informative and enjoyable".
Fri 18 July 2014
July 2014
May 2014
March 2014
August 2013
July 2013
May 2013
April 2013
March 2013
January 2013
September 2012
July 2012
March 2012
February 2012
December 2011
June 2011
March 2011
December 2010
November 2010
August 2010
July 2010
June 2010
March 2010
February 2010
October 2009
August 2009
May 2009
April 2009
March 2009
February 2009
July 2008
April 2008
March 2008
February 2008
December 2007
November 2007
October 2007
July 2007
June 2007
April 2007
November 2006
July 2006
May 2006
March 2006
February 2006
January 2006
---