---
Appleby Students Make a Splash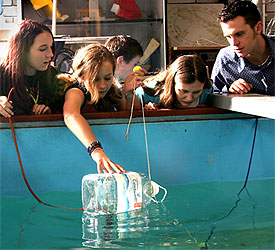 Students from Appleby grammar school visited Lancaster University in July to try their hand at solving the world's energy problems. The event, hosted by the Engineering Department, was aimed at giving the students a taste for life at university and an idea of what engineering is all about.
After setting the students the challenge via DVD shown in class, they were invited to the University campus for a day of mechanical design and testing. The challenge was to make a device capable of pumping water powered only by water waves. The devices were tested in Lancaster University's wave tank, which is one of only a handful of UK facilities designed specifically to test new and innovative seafaring renewable energy devices.
The students worked in teams of 4 and where given some basic mechanical components, including a plastic bottle, bicycle pump and sheet of steel. They where given just 2 hours to make their machine. The project was inspired by the real life engineering problem of trying to generate renewable electricity using sea waves.
The scheme formed part of the Department's work on raising the profile of the engineering profession in local schools. The event's organiser, Nick Baker, said:
"It is important for students to realise that there is more to engineering than looking at car engines. It is a solid career option and most of our graduates get snapped up by companies looking for strong graduates and offering competitive packages.
"As a nation there is a shortage of engineering graduates and we face serious problems which can only be solved by getting a strong supply of UK engineers. We hope that events like these will help persuade students that a career in engineering is worthy and interesting."
Appleby Grammar School's Simon Mumford was responsible for the school's participation and is working very hard to make his students aware of the opportunities available to them:
"I am involved with the continual struggle to encourage student to study science at post 16 education. The financial constraints of doing a degree these days make students nervous of University. Events such as today's give students a taste of what is available to them"
The scheme is set to run again next year as a competition involving other regional schools.
Tue 10 July 2007
Associated Links
LUREG - Lancaster University Renewable Energy Group
July 2014
May 2014
March 2014
August 2013
July 2013
May 2013
April 2013
March 2013
January 2013
September 2012
July 2012
March 2012
February 2012
December 2011
June 2011
March 2011
December 2010
November 2010
August 2010
July 2010
June 2010
March 2010
February 2010
October 2009
August 2009
May 2009
April 2009
March 2009
February 2009
July 2008
April 2008
March 2008
February 2008
December 2007
November 2007
October 2007
July 2007
June 2007
April 2007
November 2006
July 2006
May 2006
March 2006
February 2006
January 2006
---