---
Pupils get hands-on in National Science and Engineering Week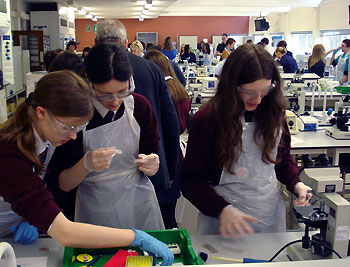 160 students from seven local schools visited Lancaster University last week to get hands-on with Science and Engineering.
Science and Technology departments organised a range of informative workshops and challenges across the week to help stimulate pupils' interest in science and technology as part of the national event.
A team of girls from Carnforth High school triumphed in the Engineering and Physics Bottle Rocket Challenge with a winning flight of 95m. Kirkby Kendal School won an Enercities competition organised by Lancaster Environment Centre in conjunction with Lancaster and Morecambe College where pupils competed to build a sustainable virtual city.
Luigi D'Antonio of Dallam School said "Our students really enjoyed the activities and were inspired by the talks and sessions."
John Bristow of Lancaster Girl's Grammar School said "Many thanks for arranging such a good workshop for us; the girls said they had found it interesting and enjoyable, especially the heart!"
Steve Bell of Lancaster Royal Grammar School said "Thanks for organising such a great morning for the boys; they were buzzing about Physics, Lancaster Uni and chocolate."
Thank you to all Science and Technology staff who were involved in the event.
Fri 25 March 2011
July 2014
May 2014
March 2014
August 2013
July 2013
May 2013
April 2013
March 2013
January 2013
September 2012
July 2012
March 2012
February 2012
December 2011
June 2011
March 2011
December 2010
November 2010
August 2010
July 2010
June 2010
March 2010
February 2010
October 2009
August 2009
May 2009
April 2009
March 2009
February 2009
July 2008
April 2008
March 2008
February 2008
December 2007
November 2007
October 2007
July 2007
June 2007
April 2007
November 2006
July 2006
May 2006
March 2006
February 2006
January 2006
---