---
Lancashire STEM symposium - Did You Know?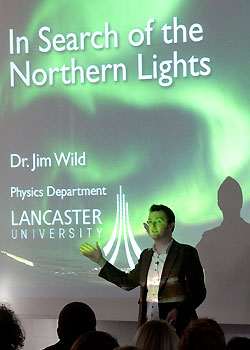 As part of a project funded by the National Higher Education STEM programme staff and students from Science and Technology at Lancaster ran six sessions at Blackpool Sixth Form college to promote the study of STEM.
The project received £10,000 as part of the collaboration fund which was run in collaboration with UCLan and the college.
The subjects on offer included Space Physics, Probability, Microbiology, Volcanology, Engineering and Physics research.
The sessions gave local students in and around the Blackpool and Fylde area the chance to speak to staff and students about Higher Education and future careers.
The project involved eleven schools and colleges with around 500 pupils and teachers taking part between October and December 2010.
In an article in the Blackpool Gazette Jon McLeod from Blackpool Sixth Form College said "We were delighted to see so many young scientists come to the college for the event. It's wonderful to be able to bring some cutting-edge science to Blackpool."
For further information about this project please contact Alan Darragh.
Mon 20 December 2010
July 2014
May 2014
March 2014
August 2013
July 2013
May 2013
April 2013
March 2013
January 2013
September 2012
July 2012
March 2012
February 2012
December 2011
June 2011
March 2011
December 2010
November 2010
August 2010
July 2010
June 2010
March 2010
February 2010
October 2009
August 2009
May 2009
April 2009
March 2009
February 2009
July 2008
April 2008
March 2008
February 2008
December 2007
November 2007
October 2007
July 2007
June 2007
April 2007
November 2006
July 2006
May 2006
March 2006
February 2006
January 2006
---