---
Particle physics pinball for Big Bang science fair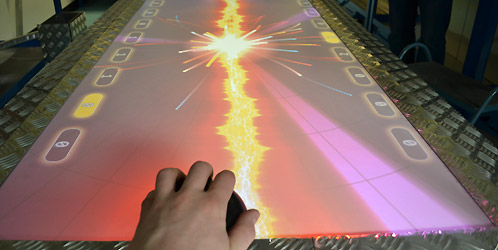 A team of Science and Technology staff and students from Lancaster University are heading down to London to enthuse and engage with thousands of visitors to the Big Bang Science Fair.
Visitors at this year's Big Bang Science Fair will get the opportunity to try out a new interactive particle pin ball machine that attempts to replicate some of the research being done by Physics staff at Lancaster University at the Large Hadron Collider.
The Big Bang, at the London Excel Arena, run from Thursday 14 March to Sunday 17 March with more than 65,000 visitors expected. It is the largest celebration of science, technology, engineering and maths for young people in the UK.
This year colleagues from across Science and Technology at Lancaster have designed and built a virtual particle pinball machine which combines the skills from Engineering, the technology from the School of Computing and Communications and the science from Physics. It was funded by the University Friends Funding.
"Our simulator uses motion sensing technology to create a virtual game that challenges visitors to collide subatomic particles in the hunt for the Higgs boson," explains Alan Darragh, Science and Technology Marketing and Recruitment Officer.
"If contestants can collide particles at the correct energies, elusive Higgs candidate particles might be created but, blink, and they'll be gone as they decay into other common particles. Action replays controlled by the players will help decide if a Higgs-like particle was briefly created, with successful contestants winning chocolate Nobel Prize medals."
Lancaster University Science and Technology student ambassadors will be tweeting live from the Big Bang via @lancsuniscitech.
Fri 08 March 2013
July 2014
May 2014
March 2014
August 2013
July 2013
May 2013
April 2013
March 2013
January 2013
September 2012
July 2012
March 2012
February 2012
December 2011
June 2011
March 2011
December 2010
November 2010
August 2010
July 2010
June 2010
March 2010
February 2010
October 2009
August 2009
May 2009
April 2009
March 2009
February 2009
July 2008
April 2008
March 2008
February 2008
December 2007
November 2007
October 2007
July 2007
June 2007
April 2007
November 2006
July 2006
May 2006
March 2006
February 2006
January 2006
---