---
School Takes Wave Power Challenge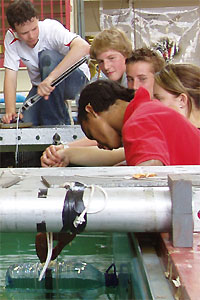 14 Students from Appleby Grammar School visited the Engineering Department on Monday 3rd July to participate in the final part of an Engineering's 'Wave Power Challenge'.
The aim was to design build and test a mini wave energy converter in the department's prestigious wave tank.
Each of the student teams was given basic materials including a plastic bottle and a bicycle pump. their challenge was to construct a device capable of pumping water out of the tank, using only the waves as a source of energy.
The winning team managed to pump an impressive 700 ml in two minutes.
Engineering's Nick Baker, who organised the event, visited Appleby Grammar School in May to contribute to lessons covering renewable energy.
To make it more interesting, says Nick, a challenge was set "which would test the pupils' ingenuity whilst giving them a taste of what engineering is about".
Simon Mumford from Appleby Grammar School praised the event:
"Schemes like this at Lancaster University are vital in showing the student the rewards and opportunities in this academic field.
Students really benefit from visiting universities to experience the reality of student life and what an academic department can offer for future studies."
The Engineering Department hopes to expand the scheme next year to involve other regional schools.
Mon 07 July 2008
Associated Links
LUREG - Lancaster University Renewable Energy Group
July 2014
May 2014
March 2014
August 2013
July 2013
May 2013
April 2013
March 2013
January 2013
September 2012
July 2012
March 2012
February 2012
December 2011
June 2011
March 2011
December 2010
November 2010
August 2010
July 2010
June 2010
March 2010
February 2010
October 2009
August 2009
May 2009
April 2009
March 2009
February 2009
July 2008
April 2008
March 2008
February 2008
December 2007
November 2007
October 2007
July 2007
June 2007
April 2007
November 2006
July 2006
May 2006
March 2006
February 2006
January 2006
---