---
Tomorrow's Climate, Today's Challenge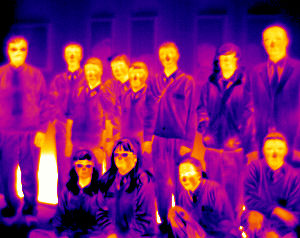 In December 2007 three local schools were invited to Lancaster Environment Centre to learn more about the science of climate change.
In conjunction with Setpoint Lancashire's 'Tomorrow's Climate, Today's Challenge' initiative groups of Year 8 pupils from Settlebeck High School (Sedbergh), Wellfield Business and Enterprise College (Leyland), and Queen Elizabeth School (Kirkby Lonsdale) heard talks from leading scientists involved in environmental research, as well getting hands on experience of experimenting on plants and insects. The groups first visited the Centre for Ecology and Hydrology (CEH), where Rob MacKenzie and Steve Lane from LEC demonstrated how they could assess the quality of water sources by identifying which insects were living in and on the water.
The pupils then moved to LEC's Plant Eco-Physiology Laboratories where Prof. Bill Davies talked them through the mechanisms controlling plant responses to changes in climate.
In the greenhouses and labs they were able to experiment by taking thermal images of healthy and drought stressed plants. Most of the apparatus used by the pupils to determine stress levels are not available in any school laboratory and using this equipment was even a new experience for many of the accompanying science teachers.
Lin Chen and Rosalia Garcia Teijeiro who are both PhD students in the lab then assisted the pupils as they visualised plant stomata under microscopes.
The day ended with the pupils having a thermal image of the entire class taken to display in their classrooms. Each pupil also received a sensitive plant (Mimosa pudica) to take away for further study.
Sun 10 February 2008
July 2014
May 2014
March 2014
August 2013
July 2013
May 2013
April 2013
March 2013
January 2013
September 2012
July 2012
March 2012
February 2012
December 2011
June 2011
March 2011
December 2010
November 2010
August 2010
July 2010
June 2010
March 2010
February 2010
October 2009
August 2009
May 2009
April 2009
March 2009
February 2009
July 2008
April 2008
March 2008
February 2008
December 2007
November 2007
October 2007
July 2007
June 2007
April 2007
November 2006
July 2006
May 2006
March 2006
February 2006
January 2006
---