---
Computer Science and Mathematics BSc Hons
What will you study?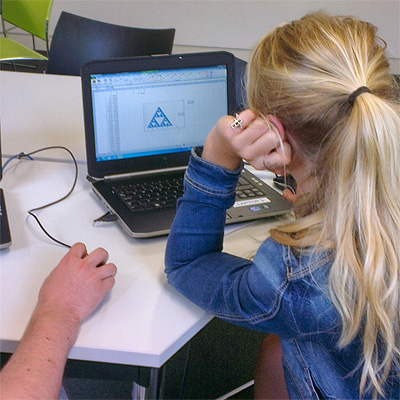 Studying for a combined honours degree in Computer Science and Mathematics at Lancaster gives you the opportunity to learn in two of the country's leading teaching and research departments. Lancaster's Department of Mathematics and Statistics is tenth in the UK, as ranked by The Guardian University Guide, 2014.
Your degree unites the fundamentals of Computer Science - including languages and logic, systems, communications and software engineering - with Pure Mathematics concepts, including algebra and analysis. Lectures and tutorials are combined with projects and practical laboratory sessions where you can put theory into practice.
You'll start your degree with courses covering Calculus, Matrix Methods and Probability. In your second year, you'll move on to subjects such as Software Project Management and
Linear Algebra before completing your degree with modules including Hilbert Space, Number Theory, Bayesian Inference, and Geometry of Curves and Surfaces.
Where could it take you?
Lancaster's Computer Science graduates have the skills required to work in a professional software and systems development environment. Our Mathematics graduates are valued by employers recruiting for a range of positions in technology, computing, financial services or management.
Combining both disciplines with transferable skills such as communication and teamwork, you will be prepared for a wide variety of positions in all sectors – from business, government, health and education, among others.
The Department of Mathematics and Statistics organises talks throughout the year on suitable careers, which help to inform students about potential career options and create useful links with employers.
Many graduates also choose to go on to further study and you'll find Lancaster offers excellent graduate opportunities on Masters and PhD programmes.
Lancaster University is dedicated to ensuring you not only gain a highly reputable degree, you also graduate with the relevant life and work based skills. We are unique in that every student is eligible to participate in The Lancaster Award which offers you the opportunity to complete key activities such as work experience, employability/career development, campus community and social development. Visit our Employability section for full details.
Typical entry requirements
For courses starting in 2015:
A-level:AAB including Mathematics or ABB including Mathematics and Further Mathematics (one of these to be at grade A)
General Studies: Accepted as one of 3 A-levels
Key Skills: Not included in the offer
GCSE: Maths (C) and English Language (C)
Irish Leaving Cert: Offers will be made on the basis of 5 or 6 Higher level subjects. Please contact the Undergraduate Admissions Office (01524 592028) for further information
International Bacc: 35 points overall with 16 points from best three HL courses, inc 6 in HL Mathematics
BTEC: Not usually accepted
IELTS: 6.0
HNC/D in Computing: Distinctions in all relevant units with merits in remaining units considered for direct entry to Part II
Mature students: Applications welcome. Evidence of formal study required within the past three years. We always interview mature students. Please contact the Undergraduate Admissions Office (01524 592028) for further information
Financial Support
Lancaster University has committed£3.7m in scholarships and bursariesto help with your fees and living costs. Our financial support depends on your circumstances and how well you do in your A-levels (or equivalent academic qualifications) before starting study with us.
Lancaster University's priority is to support every student to make the most of their life and education. For students starting their study with us in 2015, over 600 each year will be entitled to bursaries and/or scholarships to help them with the cost of fees and/or living expenses. For UK students entering in 2015 we will have the following financial support available:
AnAcademic Scholarship of £2,000for the first year of study to any student from the UK entering with A*, A*, A or equivalent academic qualificationsAnAccess Scholarship of £1,000per year for all UK students from households with an income of less than £42,600 who achieve grades of A*, A, A or the equivalent academic qualificationsALancaster Bursary of £1,000per annum for all students from England with a household income of more than £25,000 but less than £42,600
*All of the financial awards above are subject to approval by the Office for Fair Access July 2014.
For full details of the University's financial support packages including eligibility criteria, please visit our fees and funding page
View details of our current Undergraduate fees.
Students also need to consider further costs which may include books, stationery, printing, photocopying, binding and general subsistence on trips and visits. Following graduation it may be necessary to take out subscriptions to professional bodies and to buy business attire for job interviews.
Search Our Courses
Course Structure
For information on the course structure as followed by our current students, please see Lancaster University's Online Courses Handbook
---