---
Geography (Professional Experience) MSci Hons
What will you study?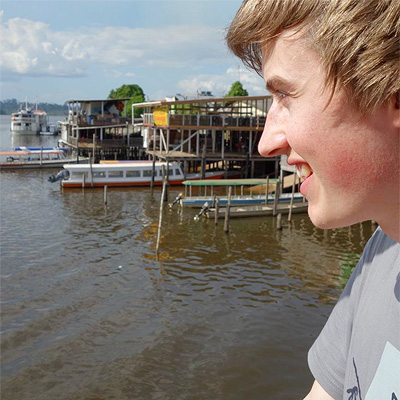 You will undertake an extensive course of study, gain a wide range of skills and have the opportunity to cover many innovative and exciting modules that make Geography at Lancaster distinctive.
For example, you could launch your teaching career with our unique Communicating Geography programme. This programme is a distinctive feature of your degree course and gives you experience of working in a local school in order to develop your own project on a geographical topic. It will also help you to develop vital career skills. Alongside this you can take options such as Enterprise for the Environment, where you work with academics and staff from companies based in our Environmental Centre, or our Brazil field course on biodiversity and food provision.Your third year includes the completion of an in-depth dissertation.
In the fourth and final year of the programme you will take four modules from the wide range of masters-level modules on offer by our Environment Centre including Disaster Management, Sustainable Systems and Low-Carbon Energy Use. You will also undertake a dissertation and crucially, a ten week placement with a graduate employer. This will give you an introduction to a graduate employer and experience at a critical stage of your study.
Where could it take you?
Recent graduates have entered careers using their degree-related skills in roles such as teaching, land surveyors and environmental consultants. Others have found employment with the transferable skills that they have gained and are working as teachers, in banking and in other commercial sectors.
Many Lancaster Geography graduates go on to further study, with recent graduates following Masters-level programmes in Resource and Environmental Management, IT and Data Communication and Transport Planning. Graduates from our North America scheme often return to continue their studies or work.
Lancaster University is dedicated to ensuring you not only gain a highly reputable degree, but that you also graduate with relevant life and work based skills. We are unique in that every student is eligible to participate in The Lancaster Award which offers you the opportunity to complete key activities such as work experience, employability/career development, campus community and social development. Visit our Employability section for full details.
Typical entry requirements
For courses starting in 2015:
A level: AAA including Geography
BTEC: DDD
Scottish Highers: AAABB
International Bacc:36 points overall with 16 points from the best 3 HL subjects
IELTS: 6.5
Mature students: Applications welcome. Interviewed if offer considered.
Financial Support
Lancaster University has committed£3.7m in scholarships and bursariesto help with your fees and living costs. Our financial support depends on your circumstances and how well you do in your A-levels (or equivalent academic qualifications) before starting study with us.
Lancaster University's priority is to support every student to make the most of their life and education. For students starting their study with us in 2015, over 600 each year will be entitled to bursaries and/or scholarships to help them with the cost of fees and/or living expenses. For UK students entering in 2015 we will have the following financial support available:AnAcademic Scholarship of £2,000for the first year of study to any student from the UK entering with A*, A*, A or equivalent academic qualificationsAnAccess Scholarship of £1,000per year for all UK students from households with an income of less than £42,600 who achieve grades of A*, A, A or the equivalent academic qualificationsALancaster Bursary of £1,000per annum for all students from England with a household income of more than £25,000 but less than £42,600
*All of the financial awards above are subject to approval by the Office for Fair Access July 2014.
For full details of the University's financial support packages including eligibility criteria, please visit our fees and funding page
View details of our current Undergraduate fees.
Students will be required to pay for travel to field sites and will have to purchase wet weather clothing, boots and waterproof notebooks for fieldtrips for which the estimated cost is approximately £110. The course offers optional field trips and students will have to pay for any travel and accommodation costs. If students undertake placements then they may incur additional travel costs. Students on certain modules may wish to purchase a hand lens and compass clinometer but these may be borrowed from the Department.
Students also need to consider further costs which may include books, stationery, printing, photocopying, binding and general subsistence on trips and visits. Following graduation it may be necessary to take out subscriptions to professional bodies and to buy business attire for job interviews.
Search Our Courses
Course Structure
For information on the course structure as followed by our current students, please see Lancaster University's Online Courses Handbook
---