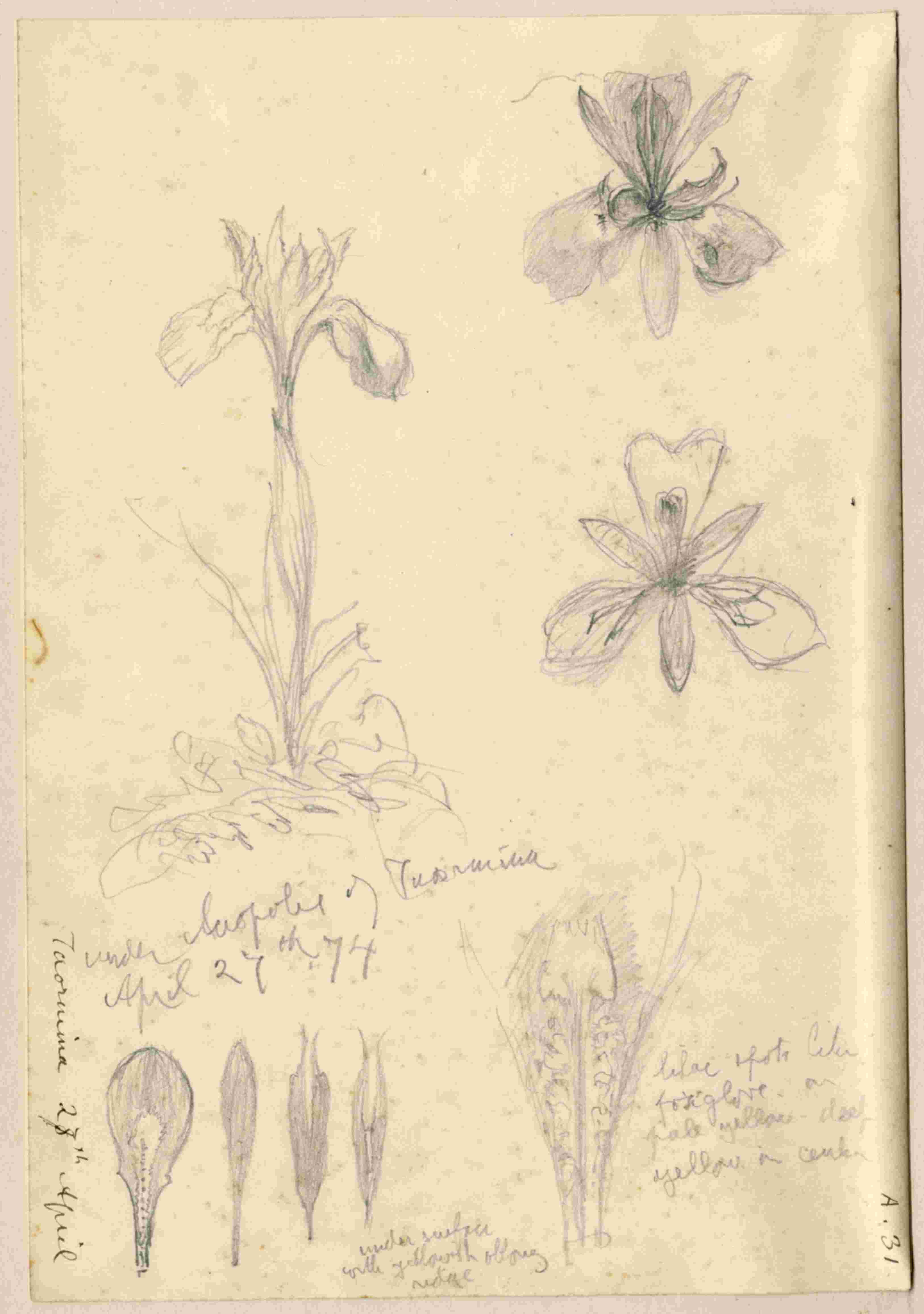 Ruskin, John (1819-1900)
Iris, Taormina, Sicily 1874
Pencil
19 x 13.2 cm
Inscribed in pencil: Acropolis of Taormina / April 27th 74 and with notes; and in ink: Taormina 28th April [28 corrected to 27]
RF 1165
The only known plant study from Ruskin's ten-day trip to Sicily in April 1874, when he took ship from Naples to visit the Yule family in Palermo; this included an excursion via Messina to Taormina and Mount Etna. Some days earlier, Ruskin had noticed wild iris, and wrote to his cousin Joan that he had "gathered today the small blue iris, wild, on the rocks of Monreale, within half a mile of the Greek mosaics which represent it – and am now certain – matching the flower fresh gathered with the visible sea beyond Palermo – that Homer's violet-coloured sea, meant – as I have said it did, iris-coloured, and that the hitherto called 'violet' crocus of the Greeks were of this flower – the blue fleur-de-lys"
This exquisite drawing is probably of the Barbary nut (Gynandiris [syn. Iris] sysyrinchium; Iris family - Iridaceae). This small Iris is common throughout the Mediterranean region and grows on rocky, scrubby ground and roadsides. The flowers are short-lived, opening at noon and fading by evening, and are usually bluish-lilac to violet with a white or yellow patch on the falls. In the lower right hand corner of the page Ruskin has drawn the centre of one of the falls and describes the pale yellow and deep yellow of the centre. The flowering period is February to May, which fits with the date of April 27th.
This entry was researched and written by Professor David Ingram.