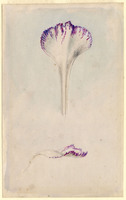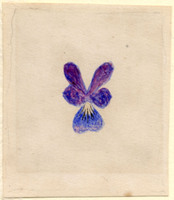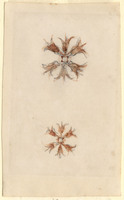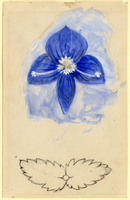 Ruskin, John (1819-1900)
Flower Studies.
4 drawings in one mount;
(1996P1273-1) 5.5 x 3.5 in
(1996P1273-2) 4 1/8 x 2.5 in
(1996P1273-3) 1 7/8 x 2 in
(1996P1273-4) 5.5 x 3 3/8 in.
Pencil, ink, watercolour and bodycolour
RF 1273
Flower Study (Veronica species) RF 1273-1
This is probably a single flower of a Veronica species (Figwort family - Scrophulariaceae). However, no scale is given, nor any details of the arrangement of the flowers on the plant. Also, the place where the specimen was growing has not been identified. A tentative conclusion is that it may be a depiction of a single flower of the common Germander Speedwell (Veronica chamaedrys L. ), together with a single pair of toothed leaves from the flower stem, viewed from above, with the stem cut across. Veronica chamaedrys is a small, low, sprawling perennial usually found in grassy places, woodlands and hedgerows. The group of four, bright blue petals, with a white centre, is typical of this species, as is the presence of a single pair of stamens. The two, opposite, deeply toothed leaves without petioles also suggest V. chamaedrys, rather than any other Veronica species.
However: one would expect the pointed ends of the four sepals to be visible between the petals, yet they are not; the long style and stigma have not been drawn; the upper petal has a sharper point and the lower petal is narrower than is typical of this species; and it is not clear whether the petals are fused at the base, as they should be in a Veronica.
This entry was researched and written by Professor David Ingram.