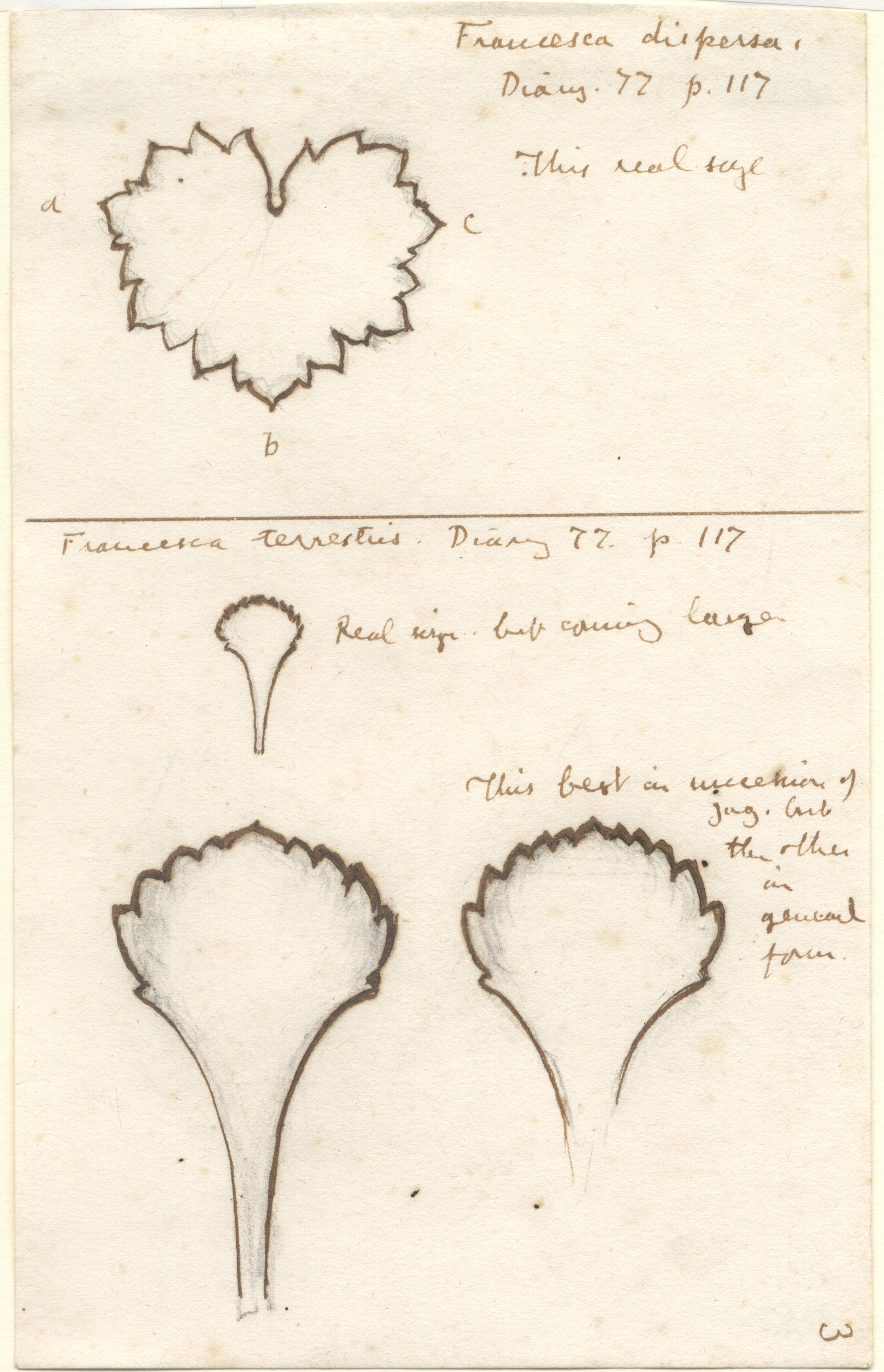 Ruskin, John (1819-1900)
'Francesca dispersa' 1877
6 4/10 X 4 in.
Pencil and brown ink
[mounted with 1221 Young Mountain Columbine and 1349 Leaf Studies]
Inscribed: Inscribed in brown ink: Francesca dispersa / Diary 77 p.117 and with notes

RF 1282
Depicted in this pair of drawings are leaves of two different species or hybrids of Saxifrage (Saxifraga; Saxifrage family – Saxifragaceae)., which now grow in profusion in the garden of Brantwood, Ruskin's home on the shores of Coniston Water. The genus Saxifraga, which includes London Pride (the hybrid S. x urbium D. A. Webb) was renamed Francesca in Proserpina, where Ruskin writes:
"The second tribe, (at present Saxifraga) growing for the most part wild on rocks, may, I trust, even in Protestant botany, be renamed Francesca, after St. Francis of Assisi; not only for its modesty and love of mountain gravel, and poverty of colour and leaf; but also because the chief element of its decoration, seen close, will be found in spots or stigmata."
Botanists currently use the Latin words dispersa and terrestris, the species names given by Ruskin to these two leaves, to mean 'scattered' and 'ground dwelling', respectively.
The drawing [RF 1221] mounted with Francesca dispersa and labelled "Young mountain 'Columbine' Brantwood. Aug. 6th. 77." perfectly captures the shape of the seedling leaves of Common Columbine (Aquilegia vulgaris L.; Buttercup family – Ranunculaceae), sometimes picturesquely referred to as Grandmother's Night-cap.
The two deeply divided leaves [RF 1349], also mounted with Francesca dispersa, have not yet been identified.
This entry was researched and written by Professor David Ingram.