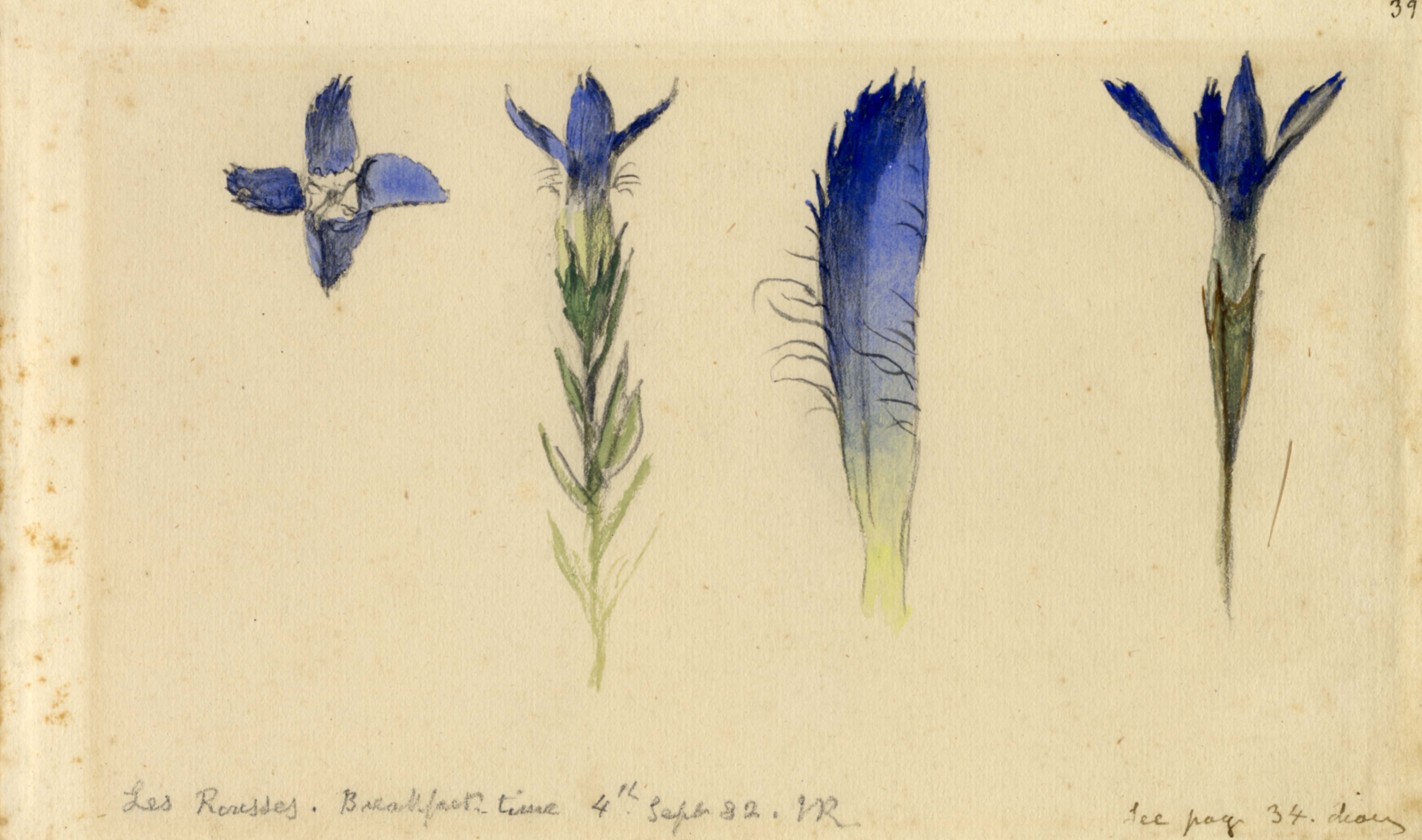 Ruskin, John (1819-1900)
Gentians, Les Rousses, Switzerland 1882
4 3/4 X 7 7/8 in.
Pencil and watercolour
Inscribed: 'Les Rousses. Breakfast time 4th Sept 82. J.R.' [and in brown ink 'See page 34 diary']

RF 1296
Fringed Gentian (Gentianella ciliata (L.) Borkh; syn. Gentian ciliata),
In this 1882 painting of the intensely blue flowered Fringed Gentian (Gentianellaa ciliata (L.) Borkh; syn. Gentian ciliata), Ruskin captures most successfully the colour so sadly lost during the pressing and drying of a specimen of Gentiana alpina collected at Chamonix in 1844, which he described as follows:

GENTIANA ALPINA
I seldom noticed the gentians finding it impossible to preserve their colour but I found them this day growing in such extraordinary masses on the very top of the Montagne Benit that I gathered one or two for memorials. I have given away all but this and I might as well have parted with this too for it has not only lost its colour but shrunk to one half its original size and is now a very slander on itself and its companions. I never afterwards in all my Alpine rambles met with this gentian either in such perfection in profusion and owing to the early season, the flowers having just burst their colour was intense beyond imagination. As the season advances, the colour diminishes greatly in purity and vigour. Fine specimens are only to be found by climbing high to spots where their blossoming has been late. Thus a zone of bright blue, followed by one of pale blue, ascends the mountain sides as the summer advances.
This entry was researched and written by Professor David Ingram.