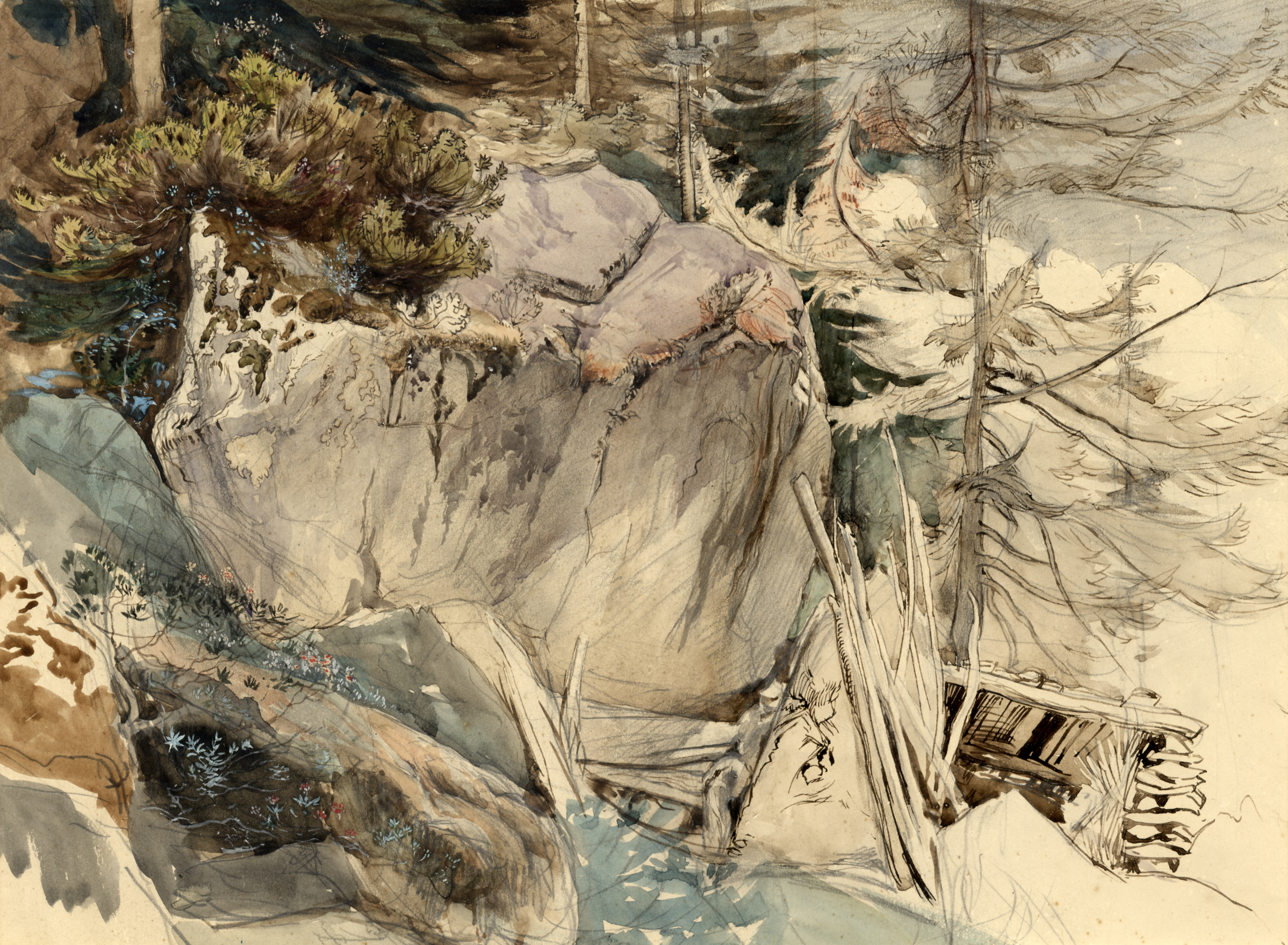 Ruskin, John (1819-1900)
Mountain Rock and Alpine Rose, 1844 (? or 1849)
11 3/4 X 16 1/4 in (29.8 x 41.4 cm).
Pencil, ink, chalk, watercolour and bodycolour
RF 1395
One of Ruskin's most beautiful early drawings, this was probably brought to completion on the spot, almost certainly in the region of Chamonix in 1844 or 1849. The pencil under-drawing is quite hasty, with the rocks and trees outlined in ink, but only simple watercolour wash and a little red chalk added. The delicate scratching-out and placing of bodycolour, to indicate the red blossom of the Alpine rose, may have been done later.
A diary entry for 28 June 1849 describes "a long scramble" up to the Cascade des Pèlerins near Chamonix, where he "got some pines, in Dag[uerreotype], then finished my drawing successfully." Moving along to a gorge under the Glacier des Bossons, Ruskin enthused over "the Alpine rose clinging to its warm and tiger striped crags, the pines above stretching their arms over one's heads like nets."
In the Preface to the second edition of Sesame and Lilies (1865), Ruskin recalled another campaign of painting Alpine roses at Montanvert, near Chamonix, going "every day to watch the budding of a favourite bed, which was rounding into faultless bloom beneath a cirque of rock" – a labour of love rudely spoiled by a party of English and German schoolboys, who "swooped down upon it; threw themselves into it, rolled over and over in it, shrieked, hallooed, and fought in it, trampled it down, and tore it up by the roots", leaving Ruskin "much to think upon; partly respecting the essential power of the beauty which could so excite them, and partly respecting the character of the youth which could only be excited to destroy." (18.26-27).
'Alpine Rose', now Alpenrose, is a low growing, rosy-red flowered, native European shrubby Rhododendron (Rhododendron ferrugineum L; Heath family – Ericaceae) and is widespread on mountain slopes and screes and open woods in the Alps
This entry was researched and written by Professor David Ingram.