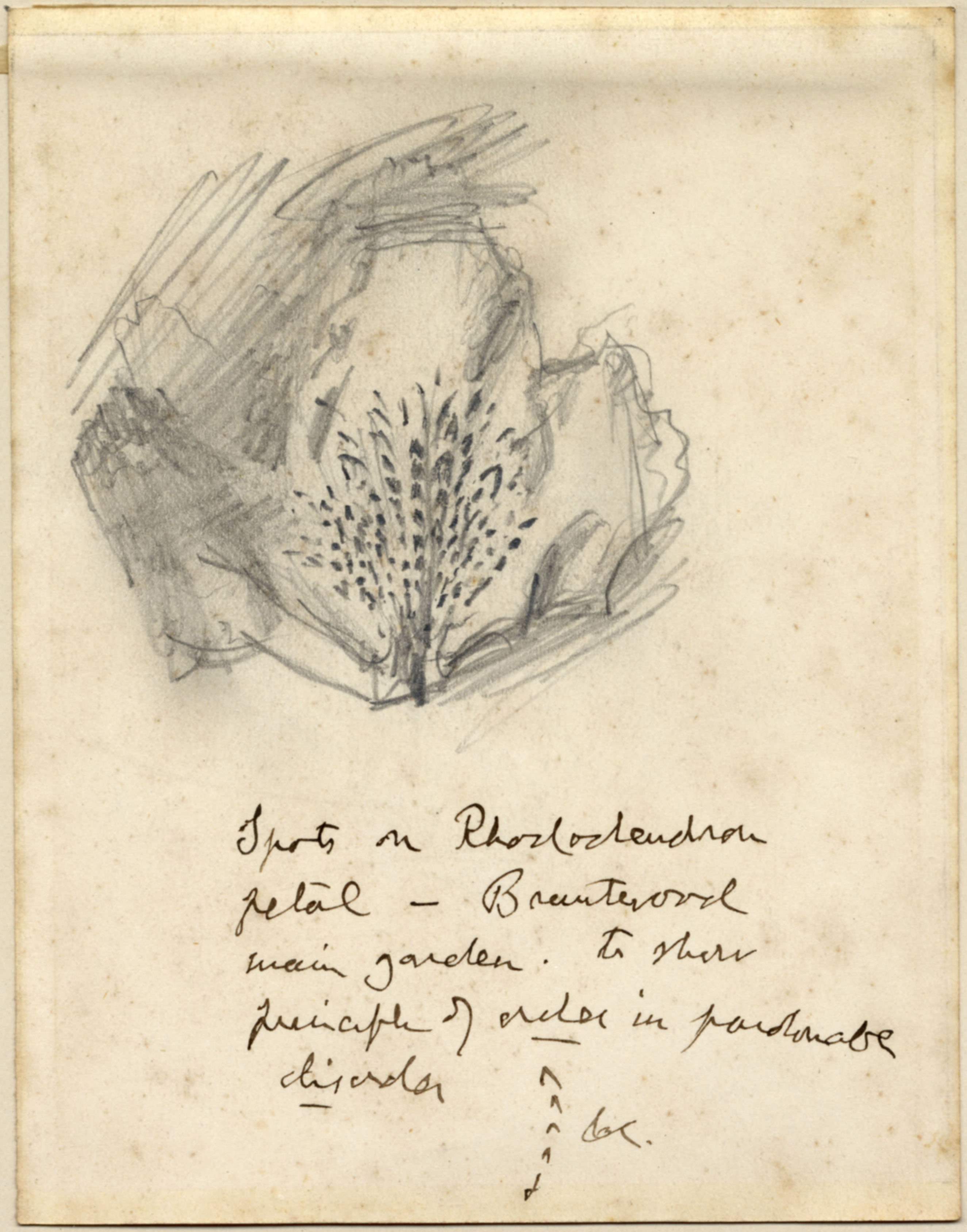 Ruskin John (1819-1900)
Rhododendron Flower
Pencil
14 x 10.5 cm
Inscribed in brown ink: "Spots on Rhododendron petal - Brantwood main garden. to show principle of order in pardonable disorder"
RF 1457
This and all the accompanying drawings ( RF 1269, RF 1275, RF 1224-2 and RF 1279) are of flowers of either species or cultivars of Rhododendron, at least some of which were growing in the garden of Ruskin's home at Brantwood, on the shores of Coniston Water. Neither the species nor cultivars can be identified from these drawings, but some may be of Rhododendron ponticum L. (Heath family Ericaceae), which was grown widely in nineteenth century gardens on acid soil, having been introduced from Gibraltar in 1763. It has now become a pernicious, alien invasive weed in Cumbria, as elsewhere. The entry in the Flora of Cumbria for this species reads as follows. Rhododendron ponticum L. Rhodedendron
Widespread and locally abundant on lowland mosses and on usually peaty soils in the hills, both in the open and under trees, usually oak and birch, and forming a dense, often impenetrable, shrub layer. Wilson omits any mention of it and it's present wide distribution in the county must have been largely attained during the last half century, although it is said to have been extensively planted along shooting drives in lower Dentdale in the 1890s. It is a most aggressive colonist and its spread by seed has been abetted by 'amenity' planting. Its dense shade effectively eliminates the previous ground flora, but it is only recently that it has become generally recognised as a major pest rather than an attractive newcomer. Unfortunately it is extraordinarily difficult to eradicate. Alt. limint: 600m, Eel Crags, Newlands (22.16)
This entry was researched and written by Professor David Ingram.