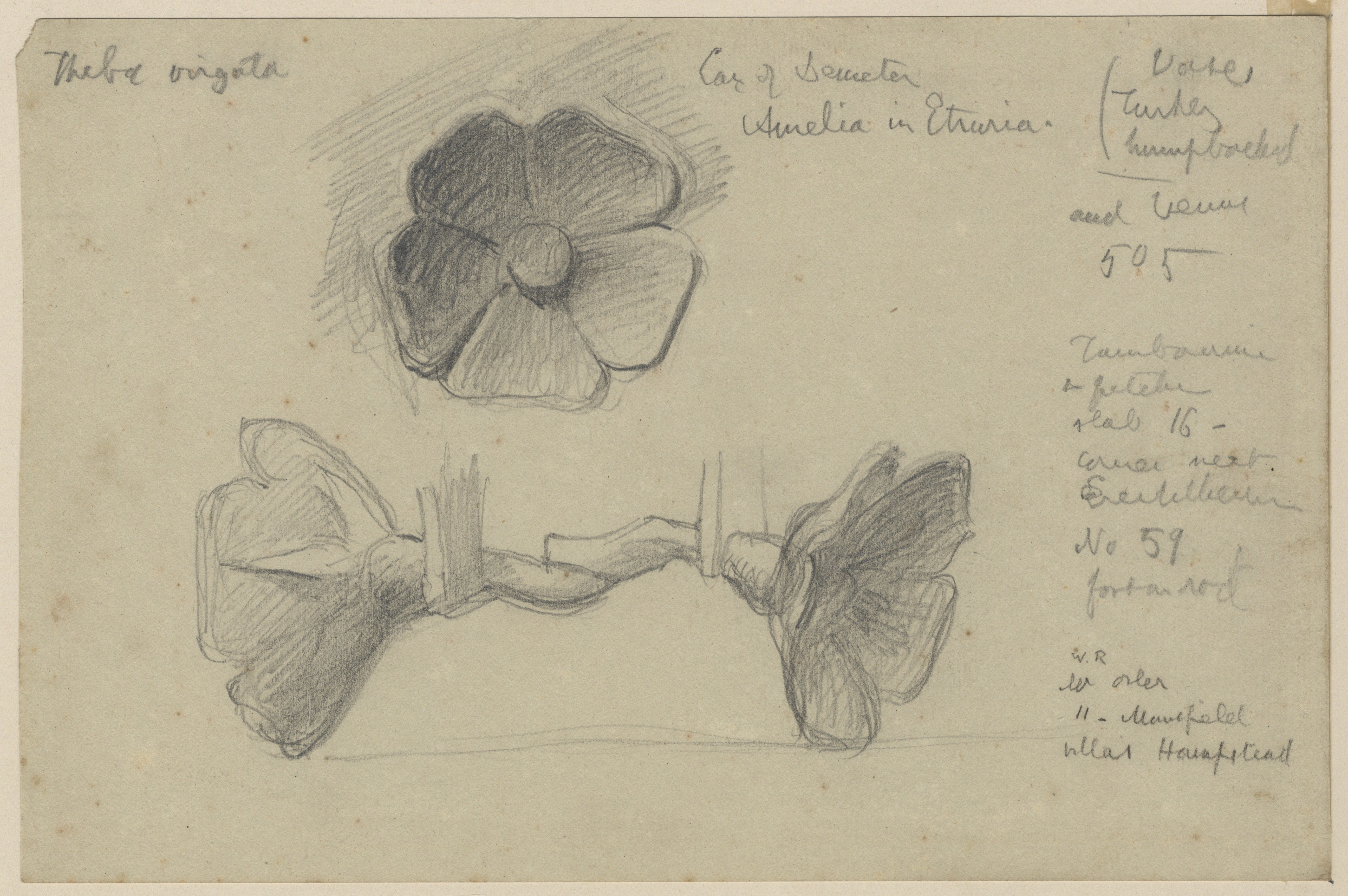 Ruskin, John (1819-1900)
Details of an Etruscan bronze, British Museum 1876 Pencil
14 x 21.5 cm
Inscribed in pencil: Theba virgata / Car of Demeter / Amelia in Etruria with other notes
RF 1543
Drawn during one of his visits to study ancient artefacts in the British Museum, this shows Ruskin's delight in discovering an Etruscan bronze combining mythology and botany, described in a contemporary publication as a figure of "Demeter sitting in the rustic car, each of the wheels in the form of an open flower, found at Amelia in Etruria" (T[homas] Nicholls, A Handy-Book of the British Museum, for Everyday Readers; London and New York, 1870, p.339).
His diary for 3 March 1876 mentions, among other objects, an "Etruscan bronze... Chariot of Demeter with pure roses for wheels." This was followed up in Letter 66 of Fors Clavigera, for June 1876: "... if you will look into the Etruscan room of the British Museum, you will find there an Etruscan Demeter of - any time you please - B.C., riding on a car whose wheels are of wild roses: that the wild rose of her time is thus proved to be precisely the wild rose of my time, growing behind my study on the hillside [at Brantwood]" (28.621). (The inscription 'Theba virgata', a type of mollusc shell, seems to be unconnected.)
In shape and form these flower-wheels bear a superficial resemblance to the wild, single, pink or white-flowered roses (Rosa ssp.) of the Mediterranean, but a more precise identification is not possible.
This entry was researched and written by Professor David Ingram.