Dr Gavin M. Brown,
BSc. PhD


Dean of Undergraduate Studies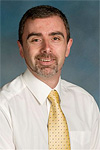 As Dean of Undergraduate Studies Gavin's role is, in conjunction with others, to enhance the quality of undergraduate learning and teaching at the University. He contributes to strategy and policy development for undergraduate provision, oversees quality assurance & enhancement in conjunction with the Academic Standards and Quality Unit and he also ensures that operational matters are optimized and implemented consistently. He also acts as a champion for the recruitment of high-quality undergraduate students and the development of our portfolio of degree programmes.
Gavin is a Senior Lecturer in Biochemistry within the Biomedical and Life Sciences division of the Faculty of Health and Medicine and is also the Director of the one-year Pre-medical Studies course. He is a graduate of Lancaster University and his first degree is in Chemistry. His research interests focus on the structure and properties of connective tissues such as the cornea, cartilage and skin. In particular his expertise is in glycobiology, namely the study of the structure and biological function of molecules which contain carbohydrates.
Dr Gavin Brown's research profile can be found
here
.
Tel: +44 (0)1524 592121
Fax: +44 (0)1524 36841
E-mail: b.pilkington@lancaster.ac.uk
Personal Assistant: Barbara Pilkington