Professor Amanda Chetwynd, BSc, MSc, PhD
Provost for Student Experience, Colleges and the Library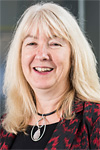 Professor Chetwynd fosters good working relationships between the management of the university and the student body and leads development of the student experience at Lancaster. The student experience includes academic, social and welfare provision. She works closely with the principals of the nine colleges and with the Pro-Vice-Chancellor for Academic Development.
Amanda Chetwynd is Professor of Mathematics and Statistics.
Her research interests are in combinatorics and medical statistics. She is interested in developing temporal and spatial statistical methods for epidemiological applications.
She was awarded a National Teaching Fellowship in 2003 and led the successful bid for a Postgraduate Statistics Centre of Excellence in 2005.
Tel: +44 (0)1524 592121
Fax: +44 (0)1524 36841
E-mail: j.andrews5@lancaster.ac.uk
Personal Assistant: Jenny Andrews