Professor Sharon Huttly, BSc, MSc, MA
Pro-Vice-Chancellor (Education)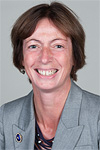 Professor Sharon Huttly is Pro Vice Chancellor Education providing strategic leadership for the University in the general area of education.
Sharon joined Lancaster University in August 2014 from the London School of Hygiene & Tropical Medicine, University of London, where she was Dean of Studies responsible for learning and teaching. Her research was principally concerned with child health and nutrition in low/middle-income countries and is now more focused on postgraduate education. She has worked extensively in South America, West Africa and Asia, obtaining research funding from, and undertaking consultancies for, various international organisations. Her teaching experience is primarily at postgraduate level in the fields of epidemiology and child health, involving a range of taught courses (campus-based and distance learning) and supervision of doctoral students.
Sharon is a Fellow of the Higher Education Academy and has served on national working groups including the HEFCE On-Line Learning Task Force and the QAA Postgraduate Advisory Board.
Tel: +44 (0)1524 592121
Fax: +44 (0)1524 36841
E-mail: j.andrews5@lancaster.ac.uk
Personal Assistant: Jenny Andrews