Professor Trevor J McMillan,
BSc, PhD, Hon MRCP, Hon FRCR


Pro-Vice-Chancellor for Research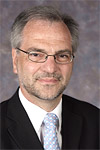 Professor McMillan oversees the promotion and facilitation of research at all levels and in all areas of the university. Core areas are research development, relationships with major funding bodies and other organisations, performance indicators and RAE policy.
Trevor McMillan is Peel Professor of Cancer Biology and a member of the Biomedical and Life Sciences in the division in the Faculty of Health and Medicine, Lancaster University.
Tel: +44 (0)1524 592096
Fax: +44 (0)1524 592025
E-mail: m.dixon2@lancaster.ac.uk
Personal Assistant: Maggie Dixon