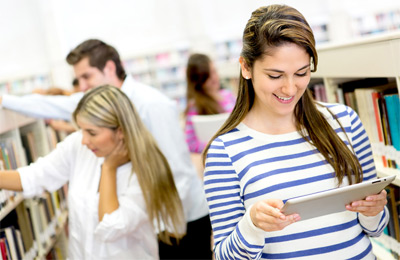 IT Essentials
You probably have lots of questions about using IT at Lancaster - from what you can bring with you, how to connect it, and how you can get help.
What to bring with you
If you're planning to use your own PC, laptop or other device at Lancaster, you'll need to know what you can bring and what you need to do before you arrive.
As a new student, can I bring my own computer to Lancaster University?
Your University Account
To access many of the IT services and applications shown on this page you'll need to log in using the University Account username you'll be given which is based on your name (e.g. bloggsj) and the password you'll set up during the final part of the Pre-registration process. There's information about Pre-registration on the Before You Get Here webpage.
It is essential that you protect the privacy and security of your University Account.
Getting online
You'll need to know how to get your own PC, laptop or device connected, how to get access to a PC if you won't have access to your own.
ResNet (residences network) - Access to the Internet and campus network from your room if you're resident on campus.
eduroam (wireless network) - Wi-fi, available from a wide range of locations across campus.
PC Labs (public access PCs) - Access to the Internet, campus network and a range of site licensed software from computers in a various locations across campus.
Where are the PC Labs on campus?
A few essential services
Email – access to your University email (Office 365), used for all emails from your department, your college and student support.
Student portal – providing access to your email, lecture timetable, course notes, library book return dates, tutorial group sign ups and more.
Printing - information about printing on campus.
iLancaster – our free mobile app. Access to a range of services, including where there are available PCs in the PC Labs, your course timetable, bus timetables, and information about campus facilities.
MyAccount – providing information about your University Account.
Getting help
There are three main ways for you to get IT help and support.
Contact the ISS Service Desk
Phone us - 01524 510987
Email us - iss-service-desk@lancaster.ac.uk
Find us - in the Learning Zone, Alexandra Square
LancasterAnswers – our online information base which you can search for answers to your IT questions.
The Workshop – our University owned store based in County Main, providing cost-effective PC services, including sales, servicing and service plans.