Get That Grad Job
Listen to our podcast on a range of platforms.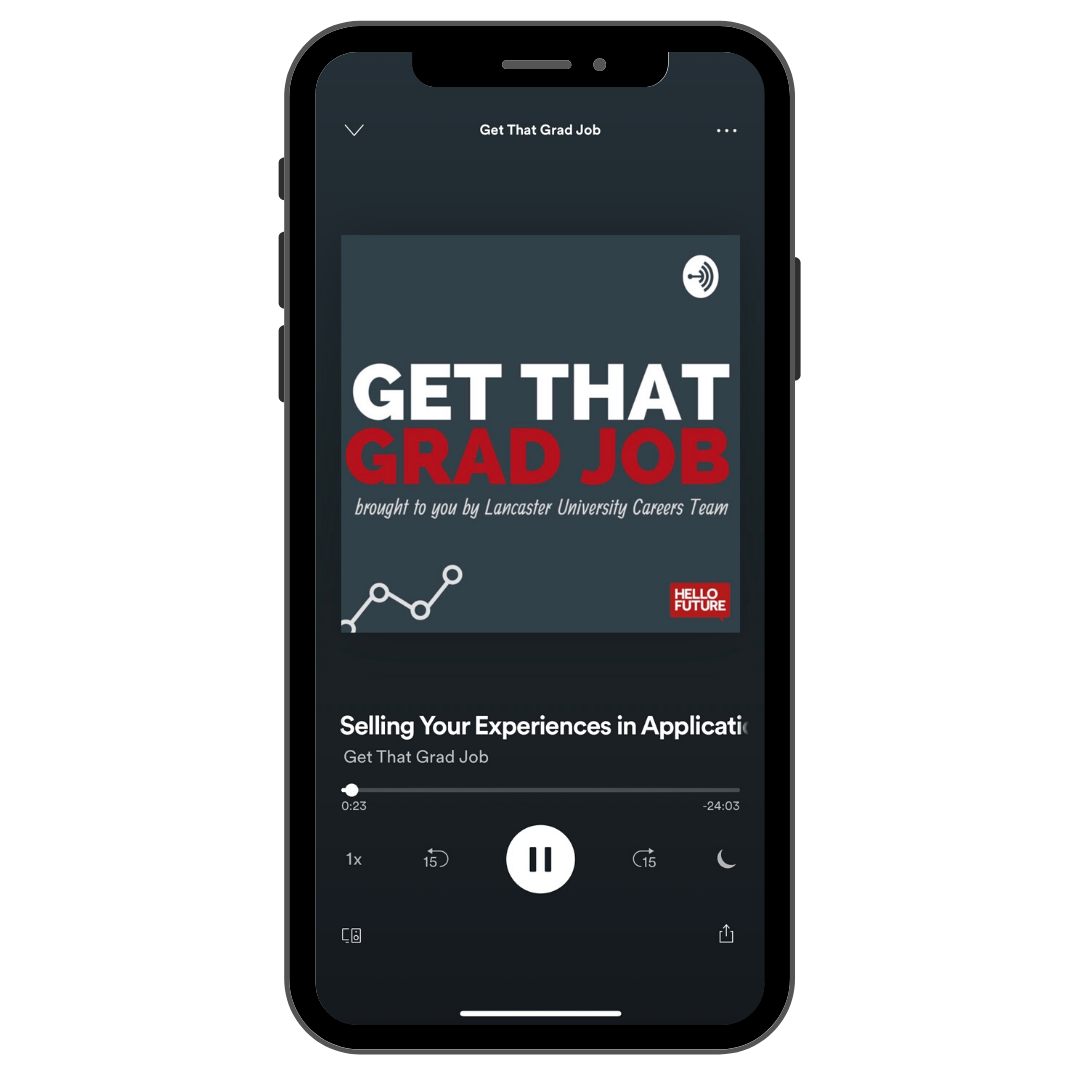 A podcast to support those navigating the challenges of securing a graduate job.
Get That Grad Job covers a range of topics to help guide and support those navigating the challenges of securing a graduate job, with inputs from experts from our Careers team and beyond!New episodes are released regularly. You can listen on a range of platforms, including Spotify.
Episodes
Browse our episodes or select a platform below.
Making decisions about your career path can be a challenging experience for everyone. Join with careers professionals who regularly support students and graduates to develop their career plan, as they provide advice and tips on how, and where, to begin when making your initial career choices.
Released December 16th 2020 • Duration: 29:22
There is a high chance that when applying for jobs, you will be rejected at least once. However, it's what you do with this rejection that can make all the difference. Join with professionals and alumni as we talk about how to deal with rejection, providing you with some top tips and ways to overcome it.
Released December 9th 2020 • Duration: 28:17
In this episode of Get That Grad Job we discuss personal branding. Join with a range of professionals as they discuss what personal branding is, how and how you can develop your own brand.
Released December 2nd 2020 • Duration: 28:15
LinkedIn is a really valuable tool for anyone thinking about their career. Join with careers team, students, and professionals to hear about how you can utilise LinkedIn for your job searching, networking and building your professional brand.
Released November 25th 2020 • Duration: 29:16
Not everyone has just one full-time job to make up their working life. Portfolio Careers are becoming increasingly common options for individuals. In this podcast, we talk about the differences between traditional and portfolio careers, and how to enter this type of work, as well as providing you to top tips from our three experts who have all undertaken portfolio careers.
Released November 18th 2020 • Duration: 24:45
This episode of Get That Grad Job is all about the Lancaster Award, which is Lancaster's employability award. Hear from careers team, as they discuss the Lancaster Award, an alumni and how the Lancaster Award helped them on their career journey, and an employer as to why these activities are so important.
Released November 11th 2020 • Duration: 19:23
Cover Letters are a vital part of many application processes, and can be tricky to write at the first attempt. Hear from our guests as they discuss cover letters, including how they are used, what employers look for, and how to make your cover letter stand out.
Released November 4th 2020 • Duration: 25:32
There are lots of types of jobs available to graduates. Hear from employers and careers team about the main difference between direct entry and graduate schemes, as well as tips for applying for roles, and considering which options are right for you.
Released October 28th 2020 • Duration: 28:06
In this episode of Get That Grad Job, we speak to a clinical psychologist, a coach, and a careers adviser about confidence, and provide some top tips about how to become more confident in yourself and your abilities.
Released October 21st 2020 • Duration: 24:35
This episode of Get That Grad Job is all about finding a part time job. You'll hear from a student, an on campus recruiter, and an employer, as they discuss part time jobs and how they affect your employability, as well as finding and managing a part time job alongside your studies.
Released October 14th 2020 • Duration: 27:59
Actually finding a job can be tough! In this episode of Get That Grad Job, we are joined careers staff and Lancaster alumni to talk about the process of finding a job, especially in these may be more challenging times that we live in.
Released October 7th 2020 • Duration: 26:07
The first in series two of Get That Grad Job! This episode we talk to a student, alumni and staff member about how you can make the most out of your time at university.
Released September 30th 2020 • Duration: 21:45
Graduating into a recession can be a tough challenge, but we are here to support you through it. In the final episode of Get That Grad Job, we hear from others who have done exactly that, and how you can use these tough times to build your career.
Released June 24th 2020 • Duration: 28:11
What's it like moving from student life to your first professional role? In this episode of Get That Grad Job we talk to a current Lancaster student and a recent grad who are in just that position right now, as well as Careers professionals who work with students entering the workplace for the first time to get the benefit of their experience and some top tips on how to get the most out of your new job.
Released June 10th 2020 • Duration: 21:38
Do you ever find yourself putting off that CV update by doing a few more scrolls down your social media feeds or tidying up when you should be making that job application? This episode of Get That Grad Job delves into the world of procrastination. You'll hear from careers and mental health professionals about tips and techniques to get you back on track!
Released June 3rd 2020 • Duration: 29:47
The COVID-19 lockdown has changed a lot of well-crafted plans for the summer. In this episode of Get That Grad Job we talk to Careers and business professionals about the different ways you can work on improving your employability this summer while we are all socially distancing.
Released May 27th 2020 • Duration: 28:38
Lots of people choose to take a year out to do something different and gain experience, and in this episode of Get That Grad Job we talk to careers and higher education professionals about how to make the most of a gap year and how you can effectively demonstrate that experience to employers.
Released April 20th 2020 • Duration: 20:54
With the current situation with Covid-19 changing the way we live and work, video interviews are a key technology that employers are turning to. This episode features advice and support from careers and recruitment specialists on how to perform at your best in a professional video interview.
Released April 1st 2020 • Duration: 24:19
The world is becoming increasingly connected, and careers can become global. This episode features top tips from Careers and global business specialists for those looking to successfully start their careers overseas.

Released March 18th 2020 • Duration: 17:12
In this episode you will hear from Lancaster University careers and business engagement specialists about how you can start, build, and maintain your professional networks. Learn some tips and tricks on how to leverage LinkedIn and online networking tools, as well as how to make the most of face-to-face opportunities to develop effective relationships.

Released March 4th 2020 • Duration: 26:39
CV's are a key part of the recruitment process. With insight from careers advisers and recruiters, this episode will help you explore your personal brand, how to make your CV stand out from the crowd, and how to tailor your CV to a specific role. We want you to have a CV you can be proud of!

Released February 19th 2020 • Duration: 26:18
Applying for graduate jobs can be stressful. In this episode, members of the careers and counselling teams at Lancaster University will give you lots of ideas as to how to manage the stress of applications, handle rejection, and how to gain support.

Released February 5th 2020 • Duration: 20:15
This episode explores the 5 R's model to help you to identify the skills you have gained, analyse how they match the skills employers are looking for, and explore how you can write or talk about these skills effectively in an application or interview. We also speak to employers about what they are looking for when recruiting.

Released January 22nd 2020 • Duration: 24:25
The first episode in our Get That Grad Job series, a podcast to support those navigating the challenges of getting a graduate job. This episode features guests from the Lancaster University Careers Team reflecting upon their career journeys and what they wish they'd known, providing top tips for students and graduates.
Released January 16th 2020 • Duration: 24:56