CeMoRe and the Department of Sociology at Lancaster University are thrilled to announce our John Urry Fellow for 2018-19, Thiago Allis, and to welcome him to Lancaster in January-February 2019. Thiago will be the second awardee of the John Urry fellowship, taking over from last year's fellow, Professor Gillian Youngs.
Thiago is assistant professor at the School of Arts, Sciences and Humanities (EACH), at University of São Paulo, Brazil. His main duties are teaching undergraduate courses in leisure and tourism and supervising research projects on various aspects of mobility and tourism (automobility and history, urban mobility and migration in relation to leisure and tourism).
In his academic pathway, Thiago is seeking do develop and improve a theoretical approach on tourism based on mobilities, with special regard, amongst others, to the writings of John Urry – especially the basilar "The Tourist Gaze". Indeed, in Brazil, tourism research and education – as a specific field – is relatively new (1970s). Therefore, recent developments are increasing opportunities  for new understandings through interdisciplinary approaches, also in cooperation with scholars from other countries. In this context, making bridges with social sciences is essential.
In 2012, a stay as a visiting lecturer at the National University of East Timor (UNTL) in East Timor led him to other reflective and empirical dimensions of tourism, such as how to understand and teach tourism in a country where conflicts were, until recently, part of everyday life. From this experience, post-conflict studies emerged as way to theorize tourism in a contradictory way, as an unbalanced amalgama of hospitality and hostility.
Afterwards, he devoted himself to seeking parallels between the many realities of post-conflict tourism and the new wave of contemporary migration (refugees included) to Brazil over the last 10 years. This was the starting point for the "Contemporary mobilities and diasporas: social reintegration of refugees in S. Paulo" outreach project, which aims to develop – in partnership with local social organizations – leisure and culture activities with and for refugees. Today, this project goes on: have a look at its Facebook page, "Tourism and Refuge".
Such empirical approaches – with substantial engagement of undergraduate students – have led to important reflections for the understanding of tourism as a phenomenon of contemporary mobility: if, on the one hand, tourism flows (as mobilities of pleasure) are increasingly more intense; on the other hand, forced displacements (mobilities of pain) represent a forceful aspect of contemporary mobility that can not be neglected. Based on these and other questions, Thiago Allis and Peter Lugosi (Oxford Brookes University) undertook the "Refugee Labor-Market Integration through Hospitality and Tourism" (RELAI-HOST) project, funded by the British Academy / Newton Fund. To summarise this project, it highlights, in spite of the national peculiarities, the urgence to acknowledge the needs of and the opportunities for refugees and migrants in the domains of tourism and hospitality, also as a privileged topic for investigation and public policies.
Between 2014 and 2017, relying on collaboration of several Brazilian universities, the "The Territorial Dynamics of Tourism Flows in Urban Spaces" project was developed under the leadership of Thiago, funded by CNPq (National Council for Scientific and Technological Development). It aimed to test, empirically though in small scale, ICT tools (cell phones connected to internet and ordinary tracking apps) for identification and analysis of tourism domains in the urban environment.
More recently, the "First School of Advanced Science in Mobility: Theory and Methods", organized by Thiago in collaboration with Dr. Bianca Freire-Medeiros (Department of Sociology, University of São Paulo), brought over to Brazil experts from eight different countries, who delivered classes and interacted with researchers and postgraduate students from various areas of knowledge. In Brazil – and perhaps Latin America as a whole – research on mobility, in the perspective proposed by the "New Mobilities Paradigm", is a relatively recent issue, so that with SPMobilities an important step towards the constitution and strengthening collaborative networks in Brazil, Latin America in connection with other institutions around the world – such as CeMoRe and Policy, Drexel University, USA.
Whether through the technical aspects or the more humanistic approach on the phenomenon of mobilities, Thiago has been seeking to build research experiences that bring together concepts, theories and methods for the study of tourism in a broader way. After all, tourism and its multiple variants unveil tacit or implicit manifestations of mobility and deserve, therefore, a careful look to overcome sole focus on marketing and operational approaches.
"To engage with CeMoRe team, an auspicious think tank for mobilities within the social sciences, is an outstanding opportunity to improve theoretical work and also link with international scholars and researchers based in Lancaster".
During his stay, Thiago will work closely with CeMoRe's director, Professor Monika Buscher, in order to develop a digital platform aiming to organize and facilitate public and virtual access to John Urry's private library, which has been donated to the University of São Paulo and will soon be transferred there. Indeed, this colletion should contribute greatly to increase mobility research in Brazil and Latin America, allowing other researchers to get in touch with this subject and to propose other initiatives that continue reverberating the brilliant thoughts on mobilities unfolded by John and many of his colleagues. He will also be hosting a seminar: "Tourism Mobilities: pursuing a new approach on tourism studies". More info here>>
Featured image source: joelfotos
Email: thiagoallis@usp.br
CeMoRe and the Department of Sociology at Lancaster University are thrilled to announce our John Urry Fellow for 2018-19, Thiago Allis, and to welcome him to Lancaster from 22nd January- 15th February 2019. Thiago will be the second awardee of the John Urry...
Professor Gillian Youngs has been awarded the first ever John Urry fellowship and we warmly welcome her and her research to Lancaster. Gillian is currently Dean of Arts and Humanities at Canterbury Christ Church University, UK. Her previous role was Professor of...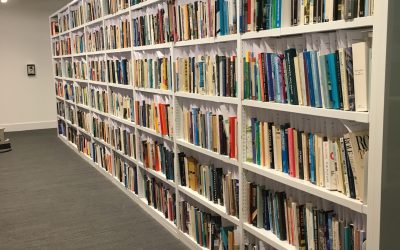 John Urry Library Section at University of São Paulo