Planet Knox Ltd: High Speed Production for High Speed Protection
Having been in existence for a number of years, Planet Knox specialise in impact protection wear for motorcyclists. The company have received several awards for the quality and high attention to detail in their products.
Despite these successes, the company encountered significant time constraints in the design and manufacturing stages of their products. This was largely as a result of using dated methods of design, including sketching, 2D CAD and cutting patterns in foam/cardboard to be reverse-engineered.
The challenge
Through Business Link Cumbria, LPDU were asked to look into how this design for manufacture stage could be reduced in time, with design operation and flexibility brought in-house, allowing for iteration of product design instantly if required. Such design problems could not previously be rectified after commissioning for manufacture overseas.
The solution
Through a series of demonstrations and seminars with LPDU in conjunction with reputable CAD software vendors partnered to the VP Project, Planet Knox Ltd were steered in the direction of SolidWorks. Such 3D design software will allow Planet Knox Ltd the flexibility they require in their design process by incorporating organic design to their products, applying mass properties (material characteristics) to the 3D models and performing simple Finite Element Analyses of the parts. Photo-realistic rendering and texture application round this off to allow Planet Knox to undertake true Virtual Prototyping of their product range.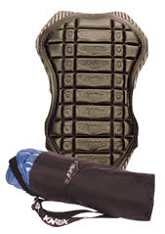 Project outcomes
A future move for Planet Knox Ltd is to investigate more fully the use of rapid prototyping in the production of prototype models and components, thereby allowing senior company staff to sit around the table and approve a design through physical form and fit verification. If modifications are required, then design iteration can be done instantly on the CAD system and sent for further RP component manufacture. Such prototype manufacture is now a simplistic process for Planet Knox Ltd to undertake – export the CAD file in the appropriate format, send to a Rapid Prototype bureau service and in 3-5 days time, a physical model is available for testing. Ultimately, the design of a component and its translation to a physically manufactured prototype could be reduced to 5 working days in total.
Through the installation of appropriate in-house design technologies, and introduction to appropriate prototyping facilities, the opportunity for Planet Knox Ltd to increase throughput has increased significantly. The future looks very promising!