Sensor engineering and technology research
We focus on smart sensing solutions for applications requiring high reliability and extended functionality.
Our work aims to integrate design solutions that aid manufacture and deliver an on-line test and prognostic capability. We have delivered solutions for inertial MEMS sensors, physical sensors for industrial applications that include pressure, humidity and corrosion and biochemical sensors for medical applications.
"We are on the verge of change in the electronic systems industries towards the integration of artificial intelligence and the associated growth in distributed and autonomous sensing. Applications include driverless vehicles, digital manufacturing, bio-medical analysis and smart grid. We aim to assist this revolution through new sensing solutions capable of delivering the functionality and dependability required for these future systems." - Professor Andrew Richardson
Research areas
Embedded test solutions for Health & Usage Monitoring (HUMS)
Self-Repairable "biomorphic" sensing solutions
Multi-functional sensors
Reliability modelling and Physics of Failure

Benchtop proof of concept for the application of Bias Superposition to a QinetiQ MEMS accelerometer
Research projects
Gamechanger project to develop a self-adapting, self-healing corrosion sensing solution for the nuclear industry
An industrial program with ULTRA electronics to develop a dual-mode pressure and humidity MEMS sensor.
An industry-funded project to build coupled mechanical – electrical simulation models of critical sensing technologies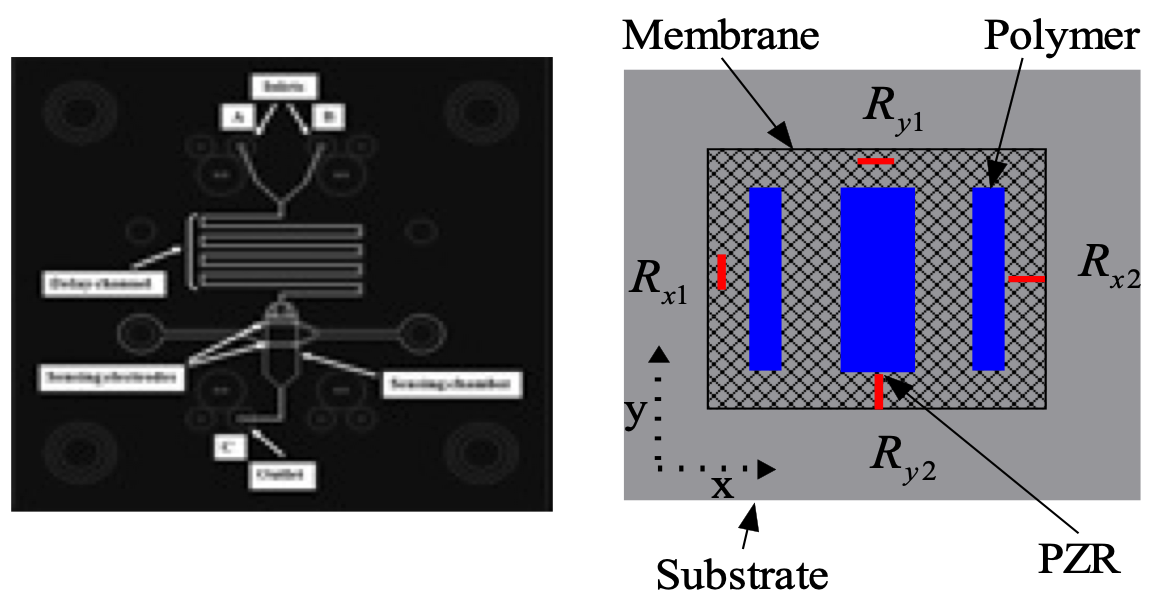 An electrode based fluidic sensor designed for charged species detection and a dual-mode pressure/humidity sensor designed for HUMS applications.
Facilities
A full suite of design tools including COMSOL and ANSYS for structural and electrical design
Characterisation facilities including profilometer, AFM, SEM and electrical test & measurement
Key publications
A housekeeping prognostic health management framework for microfluidic systems, Khan, H., Al-Gayem, Q. & Richardson, A. M. D. 1/06/2017 in : IEEE Transactions on Device and Materials Reliability. 17, 2, p. 438-439 12 p.
Use of self-calibration data for multifunctional MEMS sensor prognostics, Khan, H., Tahir, M. I. & Richardson, A. M. D. 08/2016 in : IEEE Journal of Micromechanical Systems. 25, 4, p. 761-769 9 p.
Self-Monitoring, Self-Healing Biomorphic Sensor Technology, A Richardson & D Cheneler. 05/2019 in : Proc. Of IEEE On-line Testing & Robust Systems Design Symposium
Development of a multi-frequency impedance measurement system for use in MEMS flow cytometers
Richardson, A.M.D., Cole, N., Abdul‑Hafiz, A. 12/2017 in : Microsystem Technologies. 23, 12, p. 5527-5543. 17 p.